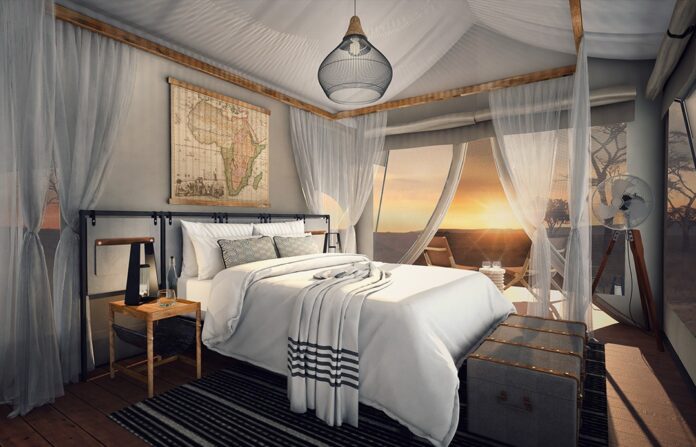 The wilds of an African Safari Experience combined with a stay at one of the best hotels in Zanzibar are the most memorable you can ever think of in Tanzania. Tanzania is a blessed county in Africa, its bush and beach safari is exceptional.
The tour starts when we meet you at Kilimanjaro international airport or in any entry point and drive to your lodge in Arusha for briefing and overnight. Then after breakfast start your Tanzania safari & afterward fly to Zanzibar for beach holidays.
The Tanzania safari takes you to the Northern Tanzania parks of Tarangire, Lake Manyara, Ngorongoro Crater & Serengeti then fly out of Serengeti to Zanzibar for beach extension. The accommodation will combine nice standard luxury lodges and tented camps and in Zanzibar. Transportation in 7 or 5 seats safari Land Cruiser with a photographic roof thatch ensures pictures at any angle, window seat for to everyone. A professional & well experienced local English speaking safari driver guide will take you to the areas which will leave you with wonder & excitement.
Luxury tours range from safari holidays through the great plains of the Serengeti, home to Africa's "Big Five", to chimpanzee tracking through the forests of Mahale National Park. Tanzania's vast wildlife populations can be encountered across the country, with flamingos and tree-climbing lions found in Lake Manyara, water-dwelling creatures such as crocodiles and hippos in the Selous Game Reserve, and large prides of lions and elephant herds inhabiting the dramatic landscapes of the Ruaha National Park.
The white sand beaches and luxury resorts make Zanzibar one of the country's most attractive regions, with its pristine coral reefs being particularly ideal for snorkeling and scuba diving.
The Serengeti is home to not only the "Big Five" (elephants, lions, leopards, cape buffaloes and rhinoceros), but also to the Great Migration of wildebeests and zebra, and a wide array of other wildlife that are native to this historic continent. Thrilling morning, afternoon and evening game drives will offer plenty of opportunities to see these astounding creatures, with no two safaris being the same.
Take a hot air balloon safari over the vast plains of the Serengeti a must-do when visiting Tanzania, as it offers an entirely new perspective of the park that cannot be appreciated from any other vantage point.
A sunrise charter across the plains is silent except for the occasional blast from the burners and distant sounds of birds and wildlife that dwell below; it's truly exhilarating. Opt for a sunset journey and you can sip champagne as you watch the sun drop below the horizon and cast enchanting shades of orange and red into the sky.
It is accompanied with a sleep out in the stars in 5-star luxury camps that put you in the heart of the Serengeti, but those looking for a truly unforgettable experience can enjoy a sleep-out with a bed quite literally under the stars in Tanzania.
Pick out the constellations in the stars from the comfort of a luxurious outdoor tent or king-sized bed, as you listen to the gentle hum of the sprawling Savannah. This once-in-a-lifetime experience will delight romantics and the wild at heart.
After all this amazing time fly to Zanzibar for relaxation. Zanzibar is an island just off Tanzania's mainland. Together with its surrounding islands Pemba and Mafia, Zanzibar offers some of the best diving in the Indian Ocean. The weather follows the traditional safari patterns, with the best months being December to March and June to October. December to March is summer, so temperatures can get increasingly high, whereas June to October offers very comfortable temperatures for being on the beach. East Africa experiences the long rains from April to May and then the short rains in November. Some properties close during the long rains season. Zanzibar is an excellent choice as it offers so many different options.