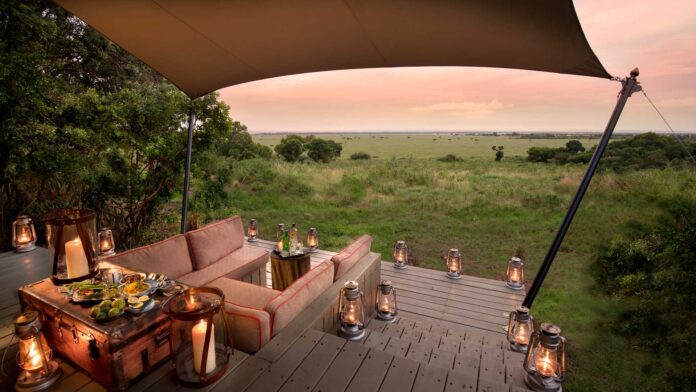 While planning to take Luxury Safari in Tanzania, consider the type of the car to ride your safari and the safari lodges in Kenya to stay. Among them include the &beyond Klein's Camp that is situated on the only concession that borders on both Tanzania's Serengeti and Kenya's Masai Mara National Parks, &Beyond Klein's Camp offers some of the best panoramic views of these two iconic destinations, which also play host to one of the greatest wildlife migrations on earth.
In this untamed and rugged landscape, you can enjoy exceptional game viewing, thrilling night game drives, Maasai culture and old-fashioned safari luxury.
This private and remote camp offers guests the spirit of wild Africa – wooded hillsides, rolling grasslands and forested river banks, all teeming with the rich wildlife, of this natural sanctuary lie sprawled at your feet. The stone interiors of the guest areas open up to breathtaking panoramas, with open fireplaces to keep the chill away. All ten cottages, including 01 family suite, feature uninterrupted views.
 &Beyond Lake Manyara Tree Lodge
Most people think that the famous tree-climbing lions at Lake Manyara have developed their climbing habit to get away from annoying insects. However, they might just be jealous of the magnificent tree house suites at &Beyond Lake Manyara Tree Lodge.
Cradled in the boughs of an ancient mahogany forest, the lodge blends into the natural beauty of its breathtaking surroundings. Designed to exert minimal impact on the environment, &Beyond Lake Manyara Tree Lodge offers an exclusive interpretive safari in a remote, game-rich wilderness.
Overlooking a forest boma, or outdoor dining area, lined with traditional dugout canoes, guest areas are characterized by soaring spaces that house local artworks and tactile fabrics. An interactive kitchen allows guests to observe the preparation of delicious dishes while enjoying spectacular forest views.
&Beyond Ngorongoro Crater Lodge
With ever-changing views as mists swirl and clouds scurry over the huge wildlife cauldron below, the location of &Beyond Ngorongoro Crater Lodge is truly breathtaking. Divided into three camps, 30 stilted suites with banana leaf ceilings and grass roofs provide an intimate and exclusive safari experience.
Each camp has its own sitting and dining areas, with private butlers who provide warm, personal service. Guests can be forgiven for losing track of which era, or even continent, they are experiencing at the lodge since nowhere else on earth can you wake up among all the trappings of an elegant baroque chateau brocade sofas, gilt mirrors, beaded chandeliers and paneled walls – and be instantly transported into one of the most famous African landscapes with just one glance out the window of the lodge. In this place of dramatic contrasts, Versailles meets Maasai and anything is possible.
 &Beyond Mnemba Island
If you have ever harbored the secret wish of finding yourself the sole inhabitant of a beautiful tropical island, but without the effort of having to lift a finger to fend for yourself, &Beyond Mnemba Island is just the place for you.
This romantic, private hideaway is an award-winning barefoot beach paradise just off the northeast coast of Zanzibar that accommodates a maximum of 20 guests at a time.
Guest relax and unwind in the exclusivity of their own stretch of beachfront, where ten beach side Banda's peep out onto unblemished sands from the dappled shade of the casuarina pine forest and overlook the Mnemba atoll (a scuba divers delight).
From snorkeling, swimming, and kayaking to massages in the beach, to doing nothing at all, &Beyond Mnemba Island has something for everyone.