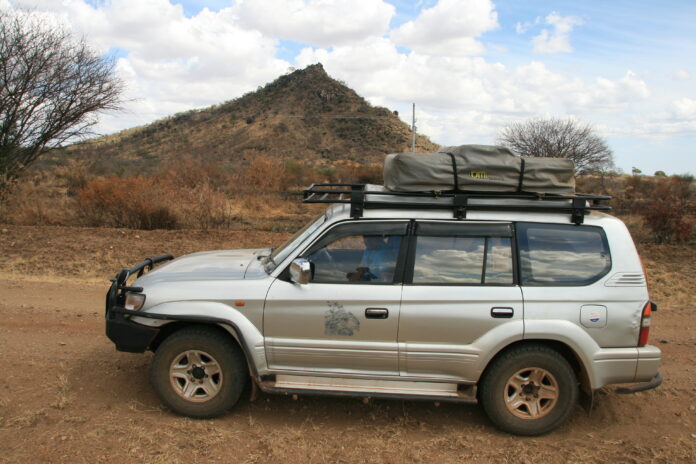 When we decided to go to Kenya and Tanzania on a self-drive holiday, as we usually do, to cut out the slice of our money that would go to our local travel operator and use the savings to add value to our trip. After corresponding with numerous Kenyan and Tanzanian companies over a period of four months we came up with a short list of three companies. Trip Advisor and other third-party websites will provide valuable references. Totally recommend rental company, been renting vehicles in Africa during the past few years and this is the best way to travel with car rental agency.
We drove one of the vehicles for nearly 04 weeks and no issues at all, very reliable and well serviced vehicle. It was then a matter of coming up with some references from previous users of their services and a quick check with Moses to confirm that the companies were in good current status before we decided to book a 4×4 rooftop tent jeep from 4×4 Car Hire Uganda. Their correspondence was prompt, to the point, and did not over or under promise. They seemed to come up with the right choices of places to go, lodgings to stay at and price points that suited our budget since they work Kenya Tanzania, Rwanda and Uganda. Value for money was one of our main goals.
Moses is very professional and helpful; we got all paperwork correctly for several cross-borders and definitely somebody to trust; he dropped the car at Nairobi airport in order to allow us to start our trip early in the morning! Certainly, best place to hire a car in East Africa is 4×4 Car Hire Uganda.
Back home after our trip of a life time, we reflect that we chose well and want to pass on our experience to all of you fellow trip-advisor users. The tour consultants at 4×4 Car Hire Uganda who put the tour together were Maike and Jackie. Also, Moses the Managing Director would always chip in with suggestions and were available to provide their perspective. Wanting different experiences, but always wanting clean living spaces with private baths and good quality food, on advisement of 4×4 Car Hire Uganda we stayed in a combination of best campsites.
Whilst the lodges were what you could kind of expect, most of our take home experiences were with the delightful tented camps we stayed at. One truly feels enriched to have had the true safari wilderness experiences. Masai warriors escorting you to your tents after meals, howling hyenas outside your tent with eyes gleaming through the bushes, the occasional roar of a lion in the distance, a midnight visits from a thirsty elephant that wrecked the plumbing outside a few tents, glorious sunsets and the African hospitality will blow your mind!
We came up with a great list of places to stay; it needs some research on Trip Advisor and other websites. 4×4 Car hire Uganda will provide all the local help you need to come up with a list that suits your needs. The final itinerary and the places you will stay at, will decide the cost of your tour. As far as our six travelers were concerned 4×4 Car Hire Uganda came up with the most competitive price in terms of value for money.
Over 04 weeks, Nairobi to Nairobi – the parks we covered were Lake Bogoria (in lieu of Nakuru that was flooded), Lake Naivasha, the Masai Mara, Lake Victoria, Northern and Central Serengeti, Ngorongoro Crater and Lake Manyara. Whilst each one had their merits; the Mara and Serengeti were spectacular to view all the wild life we were hoping to see.
I think we went with very high expectations for the crater, so when we didn't spot the elusive rhino, we thought we'd see there, we were a trifle disappointed, however, the lions certainly didn't disappoint! We could've given Lake Manyara a miss; it claims to be the home of the tree climbing lions, whereby we spotted only four, plus seeing plenty of monkeys and baboons and quite a few birds including flamingos.
On arrival in Nairobi, we were met by the happy faces of Moses and Maike, who welcome us and handle the cars to us. They were both very kind and welcoming and made us fill at home. They gave us a short briefing about the tour and what to expect, and presented us with our 4×4 Land Cruiser rooftop tent car, which were very nice as we posed for our first group picture.
The Land Cruiser was perfect for all the roads and parks. You could drive yourself, but as the park is so big it makes sense to have guides with radios helping to find the best shots. Kenya and Tanzania definitely met our expectations though we there were some items of the itinerary had to be skipped – the distances between the national parks are very large and it is not possible to jam pack so many.
We had to skip the Hells gate national park on day 3 so that we shall be able to reach Masai Mara before the stipulated park closure time. Our major gripe is about the accommodation in Masai Mara. We took ride games in Amboseli, Masai Mara, Nakuru, Serengeti and Ngorongoro. We saw leopards, lions, buffalos, rhinos, hippos, elephants, zebras, and many more mammals and birds plus the wildebeests.
We consider ourselves fortunate to have visited the elephant's orphanage in Nairobi where we met up with Moses, the Managing Director of 4×4 Car Hire Uganda. He took us to personally witness the good work that 4×4 Car Hire Uganda is doing with their sponsorship to help these kids in need. We were treated to a delightful "show" by the animals and were very moved by the joy and spirit in work done.
Much has been written on Trip Advisor about the Mara. For me, I must say, that in terms of viewing hundreds of a variety of animals in the wild (zebras, elephants, giraffes, topi, gazelles, deer of many kinds, ostriches, vultures, hawks, the common brilliant blue superb starling and on and on) and getting the Safari experience, the Mara was the most in the least amount of time, although the Serengeti comes a very close high second, as it is very vast, but here's where we spotted many more of the majestic (but lazy) lions, the hardworking lionesses, their cubs and many instances of baby lions in the making, as well as the leopards lazing on the trees and one feasting on his big Mac (a MacDonald gazelle, poor thing).
We crossed into Tanzania at the Isebenia border, a relatively easy experience as border crossings goes with lots of beaded chain and bracelet vendors going back and forth between the two countries (obviously, no visas needed) very persistently and successfully selling their handmade jewelry to our group. Spending an evening and night at the Malaika Beach Resort overlooking Lake Victoria was a good halfway break between the Mara and the Serengeti.
Long, long drive, but great location and customer service, the sound of the waves and a fresh fruit platter welcomed us on arrival, excellent hot, well-deserved showers and after, some Tuskers and delicious dinner got us ready for the night; we should have planned a longer stay. Before we got to the hotel, we were taken to a fishing village and treated to a complimentary boat ride on Lake Victoria. The folks who didn't risk the boat ride marveled at our gumption, but it was another one of those experiences we will remember for a long time, the rough waves, seeing the fishing traps and hearing the boatmen's rendition of a hakuna matata song – I would certainly recommend it.
Regarding accommodations, we were more charmed by the authenticity of the smaller tented camps and the very interesting and colorful people who run these camps to make their guests comfortable. They will be something we remember, long after the bigger lodges have been forgotten.
The last one day we spent in Nairobi exploring and experiencing, under the expert local advice and the watchful guidance of 4×4 Car Hire Uganda. We even traveled into town in the Matatu, which made us feel like locals. I will recommend 4×4 Car Hire Uganda to you with confidence and will definitely use them the next time we are on safari in Kenya or Tanzania. Their personal interest and effort to please, made all the difference.
Though we were supposed to end our tour in Kenya with the long communication we had with the experts arranging our routing informed us about the charitable work that Moses and his team do in Uganda and which we love so much.
We drove our group cars to Uganda and our first stop was Jinja and here we enjoyed the town staying at Nile River Explorers was so nice with the water sliding in the morning and later we drove to the Tukulu Eco Village and here you find various community tourism initiatives to experience directly with the locals.
The place provides meal cook experience with local volunteers and raises funds to educate these children. US$40 gets a child a desk, a uniform and shoes and the opportunity to go to school. Sparky, the manager is lovely, kind and dedicated and was happy with the school supplies and treats we brought the children.
Therefore, we did not regret visiting this eco-friendly place to the nature and humans in the area and I highly recommend all of you visiting East Africa to visit Tukulu Eco Village as your last experience.