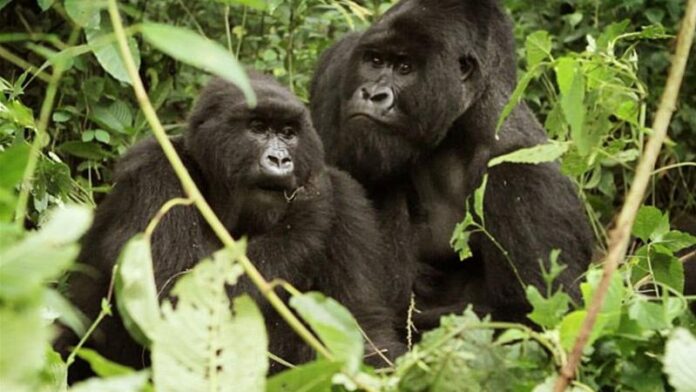 Gorilla trekking tours takes you to Uganda's smallest but scenic national parks. The scenery in and around the park is stunning with three extinct volcanoes Mount Sabyinyo, Mount Muhabura and Mount Gahinga all having their slopes in the park. The forests provide shelter and sufficient food for the mountain gorillas and other park animals.
Mgahinga Gorilla National Park has a total population of 80 mountain gorillas, but only one gorilla group is habituated and open to tourists – the Nyakagezi family. The group used to move to Rwanda and Congo but have now settled in Uganda for more than three years.
On some of our Uganda safaris to gorilla parks are great because the park attracts fewer crowds. Having one habituated gorilla group means only 08 gorilla permits can be sold in a day.
The best time to visit gorillas in Mgahinga is during the dry seasons of December to February and June to October. During the dry season the forest paths are not overgrown with vegetation and are less muddy.
Tracking gorillas in Mgahinga begins with early morning briefing at the only park entrance – the Ntebeko gate. Tourists are briefed about rules and regulations for gorilla tracking. The average length of gorilla tracking in Mgahinga is less than at Bwindi impenetrable forest National Park because the Nyakagezi family lives and feeds in a smaller range which is easier to find.
Tracking the gorillas can be challenging if they move towards one of the three volcanoes found in the park, navigating through the mountain slopes can become tiring. Mgahinga has its own advantage of Golden monkeys!! Mgahinga is the only in park in Uganda where visitors can track both gorillas and golden monkeys.
Gorilla trekking in Bwindi is a more popular than in Mgahinga because 80 percent of the mountain gorilla population in Uganda is found in Bwindi. Visitors have a variety of habituated gorilla groups to choose from.
Bwindi Impenetrable Forest has four sectors where visitors can do gorilla tracking – Rushaga, Nkuringo, Ruhija and Buhoma. It is therefore possible to do double gorilla tracking in Bwindi. Bwindi impenetrable forest is the only park in the world where tourists can spot both chimpanzees and mountain gorillas.
Once contact is made, there is usually a silent wait, deep within the dense foliage, as the gorilla's edge closer. You have up to one hour to spend with the gorillas. If you wanted to spend longer, you can take part in a gorilla habituation experience, and spend up to 4 hours with these gentle giants.
Gorillas can be tracked year-round, although the rainy season makes for more challenging treks. There are two rainy seasons in Uganda, one from March to May and another from October to November. There are benefits to visiting during the rainy seasons, but the rains do make for tougher treks.
All gorilla trekkers need to obtain a permit from the Uganda Wildlife Authority. These current rates for permits are $700 per person at time of writing, and while they used to be cheaper in the rainy season, this is no longer the case.