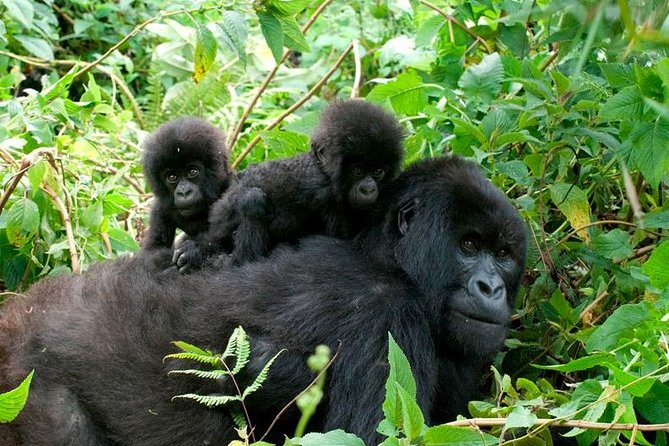 Bwindi Impenetrable Forest National Park is one of Uganda's popular destinations you should not miss on your bucket list of destinations to visit while in Uganda "The Pearl of Africa" for a lifetime vacation.
This popular destination is located in the South western part of Uganda nearing Mgahinga Gorilla National Park in Kabale district, Bwindi Impenetrable Forest National Park is characterized with thick impenetrable tropical rain forest, Swampy areas and some parts situated with some bamboo forests.
Bwindi Impenetrable Forest National Park is popularly known for the shy endangered mountain gorillas in the mist ranked to be hosting the most part of Uganda's gorilla population with over thirteen gorilla families for trekking and research in its four major sectors which include Buhoma sector, Ruhija sector, Rushaga sector and Nkuringo sector.
These four sectors are located in different regions of Bwindi Impenetrable National Park with each sector having more than two gorilla families for trekking apart from Nkuringo Sector which has only one Gorilla family.
The best way to reach Bwindi Impenetrable Forest National Park is by use of Kampala – Masaka – Mbarara highway using a stable safari jeep with a stopover at the equator for some briefing about the equator, photographs and snacks usually when you land at Entebbe airport or another option is when you land in Rwanda at Kigali airport and cross borders from Kigali via Cyanika or Katuna border up to Bwindi Impenetrable National park, this option is considered to be shorter than when you land in Uganda at Entebbe airport.
Most visitors to Uganda interested in gorilla trekking put Bwindi Impenetrable National Park as their first priority since it has variety and usually visiting Bwindi gorillas you are always 100% sure of seeing these shy endangered apes in the Jungle.
Usually, gorilla trekking tours in Bwindi Impenetrable Forest National Park requires you to buy a gorilla trekking permit which issues you permission and this permit costs $700 USD per person usually booked in advance before your trekking dates such that it's processed in time, usually when this money is paid its non-refundable unless a clear reason is presented to the responsible authorities.
Gorilla permits in Uganda are issued by Uganda Wildlife Authority but usually it's better and secure when you book for your permit through a local Ugandan Tour Operator. The gorilla trekking journey in Bwindi is usually started in the morning at the park offices after a briefing about the dos and don'ts while in the presence of these apes by the park officials, usually a group of eight people is allowed for each gorilla family with a park ranger guide to lead you through the jungle.
After locating presence of these apes in the jungle you are allowed to be in their presence for only one hour while seeing them playing with their young ones, feeding, laughing plus taking photos of them for memories and sharing with friends. After that session next move is descending back to the park offices for gorilla trekking certificate award.
Batwa people are one of the most prominent tribes visited in Uganda by visitors interested in Culture; these people are found in the western wing of Uganda in national parks like Mgahinga Gorilla National Park, Bwindi Impenetrable Forest National Park, Semliki National Park and more.
These people migrated from Ituri forest reserve of Democratic Republic of Congo in search of what to eat since they were local hunters and gatherers feeding on wild meat, using tree leaves as their medicine, caves and big tree branches as their shelter.
After their migration from Democratic Republic of Congo part settled in Rwanda and others settled in the western wing of Uganda. Usually while in Bwindi Impenetrable Forest National Park you can visit these Batwa people in their local communities and share with them through experiencing their ways of living and more.