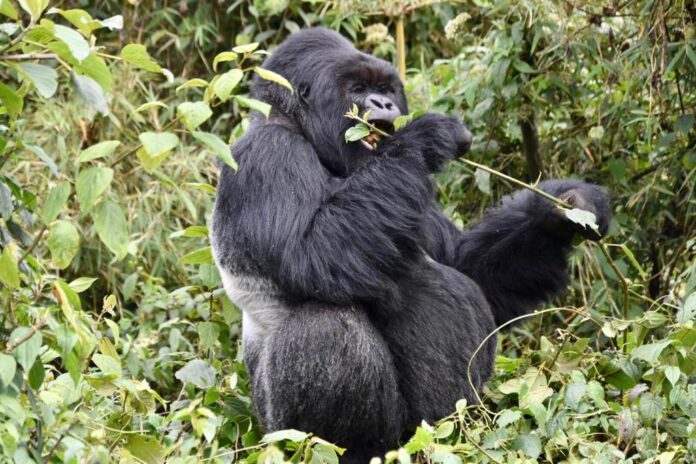 Enjoy the mountain gorilla trekking tours in Uganda that are habituated in Bwindi and Mgahinga Gorilla National Parks in western Uganda.
Uganda commonly known as "The Pearl of Africa" is among the major gorilla hosting destinations in Africa listed with Rwanda and Democratic Republic of Congo.
Uganda surprisingly is rated to be with the highest population of the world's gorillas almost half of it in that some researchers put it that some of the gorillas in Rwanda and Democratic Republic of Congo migrated from Uganda since there are bordering each other.
Uganda is located in the Eastern part of the African continent bordering Kenya in East, South Sudan in the North, Democratic Republic of Congo in the West, Rwanda and Tanzania in the South.
Most visitors taking tours in Uganda, come with the interest of seeing these shy endangered mountain gorillas in the mist because they are uniquely characterized and scarce.
How Accessible is Uganda?
Uganda, as I said it is located in the Eastern part of the African Continent and you can better reach it by air transport as it is the easiest and fastest means as compared to others.
It has its major international airport named "Entebbe Airport" where various Airlines from different countries land, there are many airlines flying in and out of the country to different countries.
This is very necessary you have to apply for a visa which issues you permission for entering into Uganda and you have to be with a yellow fever vaccination certificate which shows that you are free from Yellow fever otherwise you may be denied entry if you do not present it on arrival.
Therefore, with time to come every traveler will be required to come with the Covid-19 vaccination certificate.
More so, for tourists coming from neighboring countries say Rwanda, Democratic Republic of Congo, Kenya and Tanzania enter the country from various land borders using land transport or for the luxury tourists access Uganda with the use of domestic charters that operate inter-regional routes and among these include the Aero link, Coastal Aviation, Jumbo Jet among others.
Therefore, today gorilla and wildebeest migration is one way tourism product that so many East African tour operators offers to their clients interested to have this product as one package and with the introduction of this services, today various East African tour operators offers flying safaris say Uganda gorilla wildlife safari Kenya to the Maasai Mara National Reserve.
With this tourists are involved in like gorilla trekking or the gorilla habituation experience and after return to Entebbe for overnight as you wait the following for your charter flight direct to Maasai Mara and overnight at Mara Enkorok Camp and then next day take full exposer of the Maasai Mara Game Reserve.
What are Mountain Gorillas?
Mountain gorillas are herbivorous ground dwelling apes which are tailless and feed on stem, foliage, tree leaves, shrubs and some fruits, they are black in color and always in a group called "troop" which is led by a male silverback (Silver back is always an old huge male gorilla with patches of white strips at the back and in the chest, it's always responsible for the troop through looking after its members and providing protection to them), members in the group must go by the orders issued by their leader (Silver back). These Gorillas usually use small huts constructed out of tree leaves and branches by Silver backs for their shelter.
Where to go for Mountain Gorillas in Uganda?
In Uganda Mountain Gorillas are found in two major National parks named Bwindi Impenetrable Forest National Park and Mgahinga Gorilla National Park which are among the top destinations to visit on your lifetime gorilla safari.
Uganda has almost half of the world's gorilla population with over nineteen habituated gorilla families offering gorilla trekking experience and research in the mist.
Both Bwindi Impenetrable Forest National Park and Mgahinga National park are located in the Western part of Uganda which is about 8 – 9  hours' drive from Kampala the Capital city of Uganda.
Most of Uganda's gorilla population is found in Bwindi Impenetrable Forest National Park which is grouped in four sectors named Ruhija, Nkuringo, Rushaga and Buhoma sector.
Bwindi Impenetrable Forest National Park is characterized with thick and strong impenetrable forest where these Mountain gorillas reside; apart from Nkuringo with only one gorilla family for trekking the rest of the sectors each has more than two gorilla families for trekking.
While in Bwindi you can do both gorilla tracking and habituation experience (for gorilla trekking its takes you about only one hour with these apes after discovering their location while seeing them feeding, playing with young ones and taking photos of them while gorilla habituation experience takes about four hours or full day while in the jungle trekking with these apes) but you have to choose for a gorilla family to trek basing on the location of your place of residence to avoid extra costs due to long distance drives.
Mgahinga Gorilla National Park commonly known to be the second gorilla hosting destination in Uganda is inclusive of the Virunga Massif located in Western Uganda near Bwindi Impenetrable Forest National Park, this gorilla hosting destination has only one gorilla family for trekking named the Nyakagezi gorilla family, Mgahinga is characterized with both montane rain forest and bamboo forest where Golden Monkeys are residents where by Golden Monkey tracking is most times accompanied as the next activity to engage in while in Mgahinga for your gorilla trekking safari.
What is the price for Gorilla Permits in Uganda?
To visit these mountain gorillas in the jungle you must buy a permit which costs $700 USD per person, this money is paid in advance before your trekking dates and once paid it's non – refundable.
If you opt to do gorilla habituation experience the permit for it costs $1500 USD per person similarly paid in advance, for Uganda this gorilla habituation experience is only done in Bwindi Impenetrable Forest National Park.
This experience is done to only one gorilla family "Bushaho" and you should be in group of 04 people but if you are a family more than the required number a prior arrangement can be requested from the authority and this is done by your tour operator.
What to Ensure While in the Presence of these Apes?
For better excursion of your gorilla trekking safari both in Bwindi Impenetrable Forest National Park and Mgahinga Gorilla National Park there are some don'ts you must ensure as listed below: –
First of all, if you are suspected to be with any infectious disease you are not allowed to go for the trekking activity in the jungle as you may spread your diseases to these apes.
Move slowly while in the jungle as you may scare these apes and cause them to move far from right location you were supposed to find them.
Keep your voice at low tone.
Do not eat in the presence of these apes.
Always keep a distance of about 7m from these apes.
Do not touch on these apes without permission.
Do not run after these apes
Always do not use flush cameras when taking photos of these apes as you may scare them.
Do not liter your rubbish in the park.
After your gorilla trekking activity in either Bwindi Impenetrable Forest or Mgahinga Gorilla National Park you will be a warded a gorilla trekking certificate which indicates appreciation for the support towards gorilla conservation and at the same time congratulating you for the successful excursion of this activity.