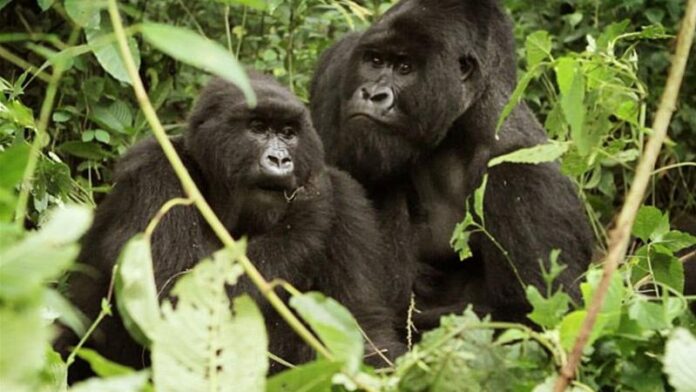 Enjoy the Rwanda cultural and gorilla safari experience.
The authentic Rwandan culture and heritage coupled with the amazing gorilla trekking safari experience is so amazing to all travelers visiting Rwanda 2021 and beyond.
The drive to the countryside of Rwanda will grant you beautiful views of the Rwandan scenic and undulating landscapes in which the land of a thousand hills was derived by the first travelers' into Africa.
Mountain gorilla trekking in Volcanoes National Park and also experience Rwanda's traditional culture at Iby'Iwacu cultural village on this 4 Day Gorilla & Rwanda's Cultural Experience is the daily experience that most of the tourist to Rwanda do encounter.
Having a chance to see some of the last remaining 1,063 mountain gorillas in the world is a wonderful experience.
It offers you an opportunity to stay in a traditional Rwanda Village setting, witnesses the traditional dances, food, beer processing, medicine men, music and other entertainment, Batwa pygmies' villages, etc.
The Volcanoes National Park encompasses ancient afro – montane and bamboo forests, covering about 160km² of pristine wilderness.
The park is named after the five volcanoes it incorporates but is most famous for its African mountain gorillas.
Volcanoes Park is also incredibly bio-diverse, hosting about 200 bird species and a rich array of animals, plants and insects, including many rare and endemic species.
The park is home to the most groups of habituated gorillas, making it one of the best places to go gorilla trekking. We will be assigned to one of the ten habituated gorilla groups which the ranger tracks down.
Finding a group of mountain gorillas, you stop and spend a spell-binding hour with them. Observe the natural behavior of gorillas in the wild, watching these giant primates feed, interact, doze and simply be.
Seeing the young play and watching the gorillas groom and tease each other is an incredible sight. Sometimes the gorillas watch visitors with curiosity and even come closer – a thrilling encounter, especially if a massive silverback approach.
A walk in the village offers a glimpse into traditional Rwandan culture. While at Iby'Iwacu you get to watch drumming and dance performances by the locals, perhaps meeting a medicine man and trying out a bow and arrow.
From the cultural village, we proceed to the red rocks to see how the local banana beer is produced.
Eastern Rwanda is relatively flatter than most of the country and preferred by the pastoralists.
We will visit a homestead of cattle keepers and engage in the different activities. We start early morning with milking cows with hands as opposed to machines.
The herdsman will guide you on how to soothe the cow and milk it. After the session, you set the cows for the days grazing.
You also have lessons on how milk is converted traditionally into different products like ghee and yogurt.