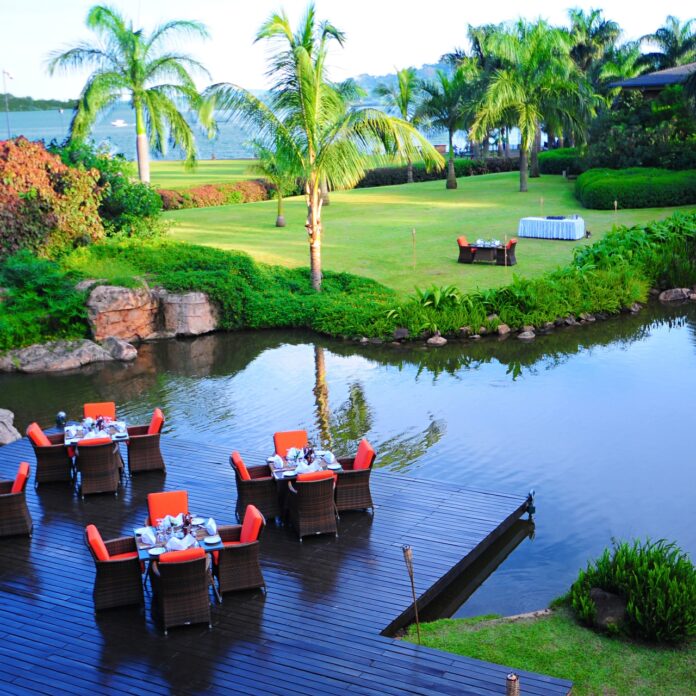 While planning for your Uganda tour, think on the safari and hotels to stay before and after your wild safari. Below are some of the exotic hotels that you can choose to stay.
Hotel No.5 Boutique, Entebbe
A quaint suburban retreat within the bustling city of Entebbe, the boutique Hotel No.5 Entebbe makes for a humble base to relax at the start or end of a trip to Uganda. Tucked away on a quiet path, the hotel is home to just 10 luxurious rooms and five apartments. Warmly welcomed by the attentive staff, you are sure to be well-cared for during your restful stay as you flit between pool, spa and the shores of Lake Victoria.
Only a short 10-minute drive from Entebbe International Airport and yet, Hotel No.5 hides away in a surprisingly idyllic location allowing you to hit reset almost immediately on touchdown. Lake Victoria, Africa's largest lake, is only a stone's throw from the hotel and is well worth a visit to see the wildlife and fauna that thrive off its banks.
The 10 rooms and five spacious apartments at No.5 Entebbe each feature calming décor and light airy spaces. Large patio doors flood the bedrooms with natural light, opening onto private balconies which overlook the charming gardens and pool area: a great spot to sit back and enjoy the sunshine in peace and quiet.
Karibu Entebbe is situated in a serene suburb to the north-west of Entebbe's city centre. Due to its slightly raised position, its upper floor has amazing views of Lake Victoria and beyond. Karibu Entebbe is an excellent option for travelers looking for boutique accommodation in this vibrant city.
Karibu is approached via road transfer from Entebbe International Airport, a drive of just 10 minutes or so. It is located on a hillside above the city centre, away from the hustle and bustle while close enough for visitors to access all the main attractions. The property is set back from the road behind a gate. Once the home of Uganda's president, it is a sturdy stone structure surrounded by gardens.
There is a comfortable lounge, featuring well-cushioned wood-framed seating around chunky coffee tables. The restaurant has chic separate tables flanked by padded fabric chairs, and there is also a well-stocked bar. Guests may also tuck into food and drink on the property's terraces, while enjoying garden views.
Within the gardens, there is a lovely swimming pool complete with inbuilt seating, floating table, and natural rock waterfall this is the perfect place to cool off with a sun downer after a busy day.
The guest accommodation at Karibu consists of seven rooms, all within the house. Four are on the ground floor and three occupy the upper level, so you can choose between garden and lake-and-garden views. All rooms have a double bed or twin beds, mosquito nets, bedside tables and lighting, storage space, a seating area, and en-suite facilities comprising flush toilet, washbasin, and walk-in shower or bath with shower attachment. Three of the four ground-floor rooms boast double doors onto a private terrace these are slightly more expensive, as they are more spacious overall.
Speke Resort & Conference Centre, conveniently located only 12 km from the centre of Kampala, offers you the ultimate in luxury accommodation and leisure facilities together with the finest conference and business meeting location in East Africa; all situated in an idyllic setting in Munyonyo on the shores of Lake Victoria. It's no wonder Speke Resort Munyonyo was built in this location to accommodate the visiting Presidents and Prime Ministers at the 2007 Commonwealth Conference (CHOGM).
We offer the best conferencing facilities for national and international clientele, providing a professional but friendly ambiance that spells "Pleasure and Comfort" while still at work. We offer you a choice of luxury accommodation to suit individuals, couples, families or groups on long or short stays. The Resort has 59 Presidential suites with a unique blend of traditional Ugandan décor and ultramodern furnishings, in addition to cottages, one bedroom and two bedroom apartments or studio rooms.
Speke Resort & Conference Centre Munyonyo offers 10 state-of-the-art conference rooms including a 1,000-seat ballroom and 9 multi-functional meeting rooms that accommodate groups of 10-300 people. Leisure facilities include, Uganda's only Olympic size swimming pool, an equestrian centre and a choice of fine bars and restaurants, all with different international menus.
Our Business Centre offers internet surfing, faxing, photocopying and electronic mail services. Speke Resort's spectacular setting and unparalleled service and cuisine are the ideal ingredients for a magical storybook wedding or special event. We offer a choice of elegant rooms and beautiful outdoor locations that will provide the perfect setting for your function or vacation getaway.