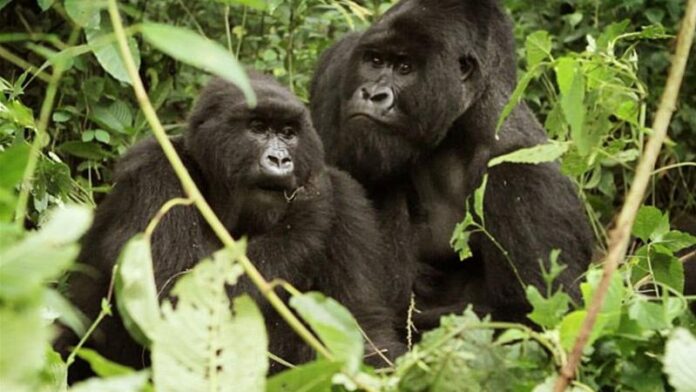 Eco Tours Rwanda offers various tour opportunities to explore all the tourist places in Rwanda. With the great experience in these places, we take you through Volcanoes National Park for the great apes in their natural habitats. Therefore, here it is gorilla trekking safaris which is a must-do activity while on a safari in Rwanda.
The world's dwindling and endangered gorilla population is found in only three countries in the world the Democratic Republic of Congo, Uganda and Rwanda. Almost all the gorilla population in Rwanda can be found in the Volcanoes National Park. Take up a family of your choice with our guidance in place.
The trek begins with a briefing at the park's headquarters and is followed by a hike up the bamboo terrain of the mountain. There are guides for each group of trekkers to lead you to the habitats of the gorilla families and the maximum number per group of trekkers is 8 people only. Once you have sighted a family of gorillas, you can only spend an hour with them in which you can take photos, make videos and see these grand primates.
Volcanoes National Park involves many other activities such as golden monkey tracking, Volcano hike, exploring the Musanze Caves, a visit to Dian Fossey tombs, Experience Rwanda's culture at Iby'Iwacu Village all well arranged by Eco Tours Rwanda.
Don't miss out on Akagera National Park, the nature's blend of swamps, lakes, Savannah plains and a rugged terrain encircled by neatly terraced hills. This scenic site was gazetted as a national park in 1934 and named after the river that runs through it River Kagera. It is located north east of Rwanda bordering Tanzania.
The park boasts of diverse vegetation zones and abounds in mammal and bird species some of which can only be viewed in Akagera national Park. There are several sights and sounds to experience while at the Park
Involve yourself in game drives to view Defassa Water buck, Topi, Bohor Reed bucks, Oribi, Semi-Aquatic Sitatunga, Eland, Giraffes, Buffaloes, Elephants, Lions and the recently reintroduced Rhinos are some of the mammals found in the park. Nature walks, fishing, birding, as well as boat safari are part of the safari.
Connect to Nyungwe national park for the chimpanzee tracking. This thrilling chimpanzee trekking experience starts at 5am which implies that you should be up earlier. Each trekking group can only have a maximum of 8 members.
Nyungwe Forest is a rain forest with a slippery terrain that will require sturdy hiking shoes, a rain poncho in the likely event of a downpour, long sleeved thick shirts for the cold weather, long trousers to protect you from the long creeping undergrowth if you happen to go off the beaten path and binoculars for a better view of the chimps should you find them high up in the trees.