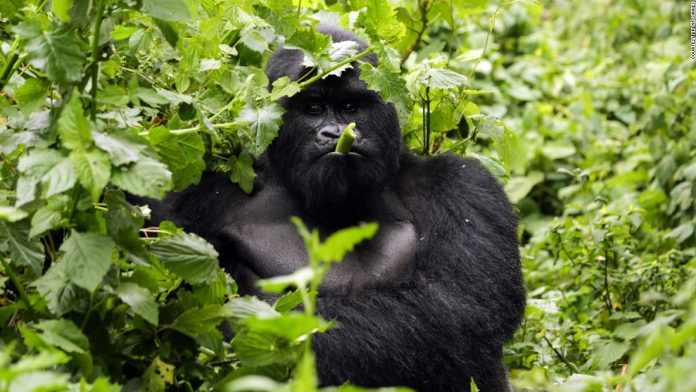 Currently when you talk about Virunga National Park most travelers and visitors to Africa just rate it with a five star because of its different fascinating touristic features characterized.
Virunga National Park is located in the Eastern part of Democratic Republic of Congo a popular destination found in the central part of the African continent, Virunga is ranked to be the oldest National Park in Africa formerly called Albert National Park and it has played a great role in the growth of Democratic Republic of Congo's tourism sector although in the past years it was affected by constant rebel attacks but currently are all resolved and tourism activities are going on smoothly.
Virunga National Park is popularly known for the rarely seen shy endangered Mountain Gorilla species and it's among the major gorilla hosting destinations in Africa, it's popularly characterized with wet and dry thick tropical rain forest, montane forests, some areas covered with bamboo forests, Savannah grasslands and woodlands plus some areas covered with fertile swampy areas.
Other primates in this park include the chimpanzees but rarely seen during some seasons, Black & White Colobus Monkeys, Red Colobus Monkeys, Red tailed Monkeys, Blue Monkeys, Vervets, Baboons and more, insects include Butterflies, tsetse flies, Reptiles include snakes like Black cobra, python, Gabon vipers, Lizards and more, it's also a good place for sighting different bird species which include African Jacanas, pelicans, Warblers, yellow billed stork and more.
The main activities done in Virunga National Park include gorilla trekking tours, Chimpanzee habituation walk plus hiking of Mountain Nyiragongo Volcano since it's one of the active Volcanoes found in the Virunga massif.
Gorilla trekking in Virunga involves moving in a group of about eight people following the well-established routes heading into the jungle in search of these apes with a park ranger guide assigned to lead you through the Journey and while in the Jungle.
Before starting the journey you are first briefed at the park offices about Dos and Don'ts while in the jungle and in the presence of these apes to ensure successful trekking and this is usually done by the park officials, the journey to the jungles of Virunga National Park is associated with en-route game viewing plus sighting of different big tree species and after locating these apes in the jungles you are allowed to stay in their presence for only one hour while seeing them playing with their young ones, feeding, laughing plus taking photos and videos of them for memories and reference, after the one hour session next step is descending back to the park offices for gorilla trekking certificate award.
Remember to go with your packed food and drinking water in the jungle for lunch since there is en-route stops over usually for resting and having lunch in case time for lunch reaches when you are still in the Jungle.
Usually, the permit for gorilla trekking in Democratic Republic of Congo costs $440 USD per person usually booked in advance before your trekking dates and this is extremely cheap when compared with other gorilla hosting destinations like Uganda and Rwanda.
The other activity done in Virunga National Park is the Chimpanzee habituation walk and these Primates are only found in Tongo forest part of Virunga but rarely seen during some seasons most especially when there is scarcity of food, they tend to move very far deep into the forest in search of what to eat so it's better you choose for best sighting seasons such that you have chance of meeting with these primates in the jungle.
The habituation walk is usually started in the morning from the starting point in a group of four people following the permanently established routes with a park ranger guide to lead you through the journey and while in the jungle.
But usually, you are advised to keep your voice at low tone and move slowly while in the jungle as these primates most times tend to be very tricky in that when they discover presence of human beings around, can choose to hide away with intentions of escaping from their enemies. This habituation walk experience in Democratic Republic of Congo costs $100 USD per person.
When dropping in for these two exciting activities remember to pack for yourself strong and impenetrable hiking shoes, capes and sunglasses, insect repellents, long sleeved shirts and trouser, water proof jackets and bags to protect yourself from mud, thorns and hooks, sunshine, biting insects like tsetse flies, and mosquitoes, skin scratches, and rain fall water respectively.
After doing all these activities in Virunga National Park that's when you will come to discover how exciting and interesting this Park is, as it's put by most of visitors to Democratic Republic of Congo.