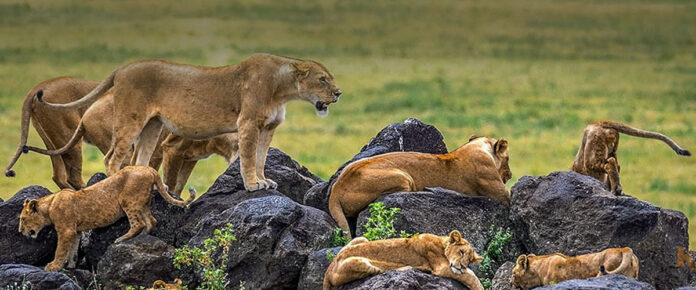 Kenya and Rwanda are a good choice for a first-time African safari. Combining wildlife in Kenya and primate tracking Rwanda's Volcanoes National Park is a once in-a-life-time experience.
Kenya has everything we image Africa to be Savannah plains teeming with grazers and predators, views of the snow-capped peaks of Kilimanjaro, palm-fringed beaches, sweaty jungles and a vast inhospitable desert.
With the oldest safari industry on the continent, the Kenyans run a smooth operation and most tourists seem to walk away happy and fulfilled from so many various Kenya safari tours packages that indigenous tour operators offer all-year round.
There are lots of reasons why I like Kenya, but it's the dramatically diverse range of natural habitats and ever-changing scenery that is the greatest draw-card – rolling Savannah roamed by massive herds of wildlife, mountain forests full of birds, high moors of Kikuyu fields, and stony parched northern deserts.
Additionally, its stunning tropical coastline really does feature brilliant white sands backed by coconut palms, and the azure and inviting Indian Ocean really is alive with colorful reefs and fish.
The Masai Mara National Reserve
Home to the greatest wildlife real estate on earth and for the sheer density of its wildlife it probably as no competition anywhere in the world. For a first-time safari these days you probably still can't beat the Mara but you should pick your spot carefully and get a good driver who can help you to avoid the crowded spots.
The obvious attraction of the Mara is the chaotic migration of thousands upon thousands of wildebeest and zebra during July/August and then in October as they follow the scent of greener pastures with the wildebeest swarming like ants across the Savannah, plus the river crossings as nervous wildebeest and zebra sensed crocodiles hiding in the shadows waiting silently to grab the bold or the vulnerable.
Amboseli National Park
There are few images in Africa as iconic as elephants walking in front of Kilimanjaro. This image, which basically screams 'East Africa', is in Amboseli National Park. Amboseli, which teems with elephants, lies at the base of Kilimanjaro. Kilimanjaro is more elusive than most animals. Mostly covered in clouds, you might not actually know it is there during your whole stay.
Quite rightly it's best known for its elephants and there are large herds of big tuskers here these are some of the best studied elephants in Africa who are completely unfazed by cars meaning very up-close encounters are possible. Amboseli is also where all those classic pictures of elephants with a backdrop of the snows of Mt Kilimanjaro are taken. This is a classic of the Kenyan safari circuit for a very good reason. Most people love elephants and there's probably no better Kenyan park for the long-nosed ones.
Rwanda Gorilla Safaris
Rwanda suffered multiple outbreaks of civil war and ethnic violence during its first 30 years as an independent state, culminating in the Genocide against the Tutsi that claimed the lives of one-eighth of its population in 1994.
Few back then would have predicted that Rwanda would one day rank among Africa's most compelling wildlife-viewing destinations. Yet that is exactly what it is today.
Rwanda's biggest draw is the opportunity to track mountain gorillas in Volcanoes National Park. It is one of only three countries where these gentle giants live (the others are Uganda and the Democratic Republic of Congo). Volcanoes National Park in the northwest of the country is unquestionably the most famous (and popular) of Rwanda's protected areas.
Rwanda is perhaps the most famous gorilla country as it was here that Dian Fossey first habituated these great apes. If you have read about her and the work she has done, you might be interested in hiking up to her old research station and the gorilla cemetery.
Many tourists visit Rwanda for gorilla tours only as an add-on to a safari in Kenya or Tanzania. There is, however, a lot more to explore in this beautiful country, referred to as the 'Land of a Thousand Hills'.
Nyungwe Forest National Park
Nyungwe Forest National Park protects a stunning montane rain forest that's home to as many as 13 different primate species, including chimpanzees. A big network of trails makes this a great hiking destination.
You can walk to several waterfalls and a swamp, but the thrilling Canopy Walk is a must the views from the suspension bridge are breath-taking. I would rate this forest as a top-class tourist destination.
Akagera National Park
Akagera National Park has seen an amazing transformation since it came under the management of the capable non-profit conservation organization African Parks in 2010. On your stay there, you be able to see the Big Five and much more.
While wildlife viewing isn't quite on the same level as in famous East African parks such as the Serengeti and Masai Mara, this beautiful park offers a great alternative if you're looking for an off-the-beaten-track alternative.
For me, the best way to end a Rwanda safari is to chill for a couple of days on the shore of scenic Lake Kivu. There are several lakeside resorts, but wherever you're staying, it's worth getting out and about to soak in a little bit of Rwanda's cultural life. Shop in a colorful market, try the local food or visit a tea cooperative.