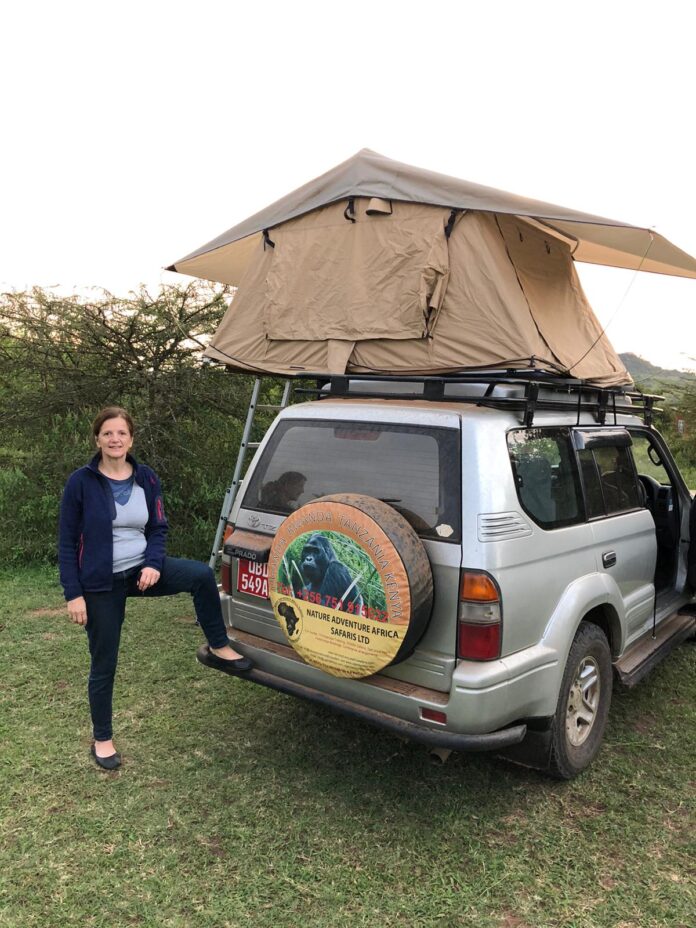 Travel to the Pearl of Africa on a self-drive trip with the aid of our 20 days itinerary, it is some thoroughly exploration of Uganda – visiting some of its most remarkable touristic destinations. Below is a summarized itinerary of a self-drive trip in Uganda for 20 days. However, the accommodations included in this itinerary are not final (compulsory), we just recommend them, but you can also book another accommodation of your wish. Meanwhile, take a look at this exciting self-drive Uganda itinerary in 20 days:
Day 1 – transfer from airport to your hotel in Entebbe or around Kampala. Take a Kampala city tour visiting many amazing places like the Kabaka Lake (Buganda tribe's King's man-made lake), Namugongo Martyrs Shrines, Kasubi tombs, The King's Palace, Gaddafi Mosque (Uganda National Museum), and many other areas, depending on the time you have. Accommodation can be BLUE MONKEY GUEST HOUSE in Entebbe.
Day 2 – Transfer to Kidepo Valley National Park but you will have some stopovers in either Gulu or Kitgum for stretching and lunch. Accommodation in Kidepo can be at APOKA LODGE.
Day 3 – Morning Game Drive where you will spot a variety of animals including four of Africa's big five species – African Lions, Elephants, Cape buffaloes, and Leopards, among other species. You will also get time to visit the Kanangorok Hot springs.
Day 4 – Transfer to Murchison Falls National Park, break off at the Ziwa Rhino Sanctuary to track the rhinos in Uganda's only habitant to these majestic animals. Accommodation in Murchison Falls can be at PAKUBA SAFARI LODGE.
Day 5 – Morning game drive and an adventurous boat cruise beneath the world's greatest waterfalls on Africa's longest River, Nile, within the Park. On a morning game drive, you can also visit the shoe bill track in the Park to try your lack of spotting this rare but most sought after bird.
Day 6 – Visiting the top of Murchison Falls which is the highlight of visiting the Park, it's such a fascinating activity – absolutely memorable. Transfer to Kibale Forests National Park, accommodation at ISUNGA LODGE.
Day 7 – the amazing chimpanzee tracking or an extraordinary chimpanzee habituation experience.
Day 8 – Transfer to Queen Elizabeth National Park, stopover at the equator for some experiments and then head to the Park for an evening game drive. Accommodation can be at Mazike Safari Lodge.
Day 9 – Morning Game Drive, Lion Tracking (Experiential), and a colorful boat cruise on the Kazinga channel.
Day 10 – drive to the Ishasha sector of Queen Elizabeth National Park to track/search for the unique tree climbing lions. Here you will also do some game drives and spot a variety of antelopes and other animals. Take residence in the ISHASHA JUNGLE LODGE.
Day 11 – Transfer to Bwindi Impenetrable Forest National Park and here accommodation will depend on which sector you are heading to. The Park has four sectors; Buhoma, Nkuringo, Rushaga, and Ruhija sectors.
Day 12 – go for the lifetime experience of trekking the endangered mountain gorillas in one of the Park's four sectors. A transfer to the picturesque Lake Bunyonyi, here accommodation can be at the ARCADIA COTTAGES.
Day 13 – cruising on Uganda's deepest Lake Bunyonyi, adventuring very many things about the lake. Transfer to Lake Mburo National Park and have an evening game drive. Here you can take residence in RWAKOBO ROCK SAFARI LODGE.
Day 14 – Morning Game Drive and then an eye-catching boat cruise on Lake Mburo, a fully packed lake with various animals like crocodiles and hippos.
Day 15 – Transfer to Jinja for a grade 5 white rafting excursion on River Nile. Here you will stay at the Nile Village Hotel & Spa as you wait for the next day to indulge in an unforgettable experience of white-water rafting.
Day 16 – taking part in the grade 5 white water rafting, half day, and then transfer back to Kampala, Entebbe. In Entebbe you can decide to get back to your first accommodation, BLUE MONKEY GUEST HOUSE.
Day 17 – Transfer from Entebbe to Nakiwogo (about 20 minutes' drive) and then board a ferry to the paradisiacal Ssese Islands situated on Africa's largest lake, Lake Victoria. Here accommodation can be at BROVAD SANDS LODGE on Ssese's Bugala Island.
Day 18 – Nature walks and resting on the beautiful sandy beaches.
Day 19 – Visiting some of the beautiful islands including the Ngamba Chimpanzee Sanctuary Island, where you will spend some time feeding the orphan chimpanzees.
Day 20 – then here you come to the beginning of an end of your exciting and memorable 20 days self drive trip in Uganda. You will descend back to the Entebbe International Airport for a flight back home.