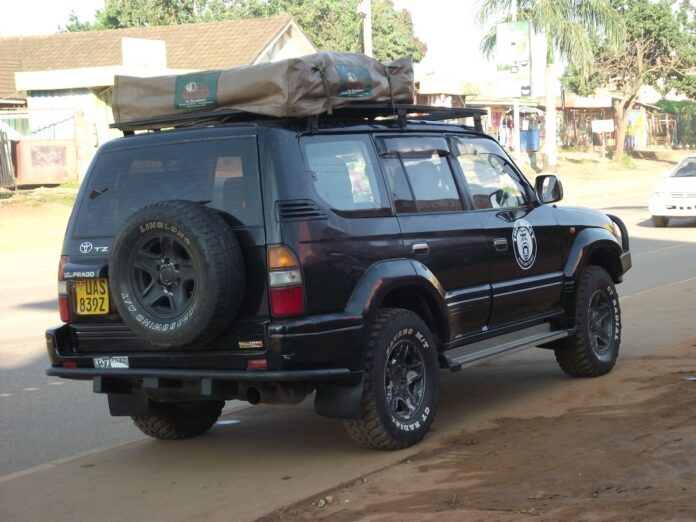 The trend of wild camping has shifted greatly from the ground camping to rooftop tent camping. Many travelers now have desired to rent 4×4 car rental rooftop camping equipment not because of the budget constrains but beholding for something adventurous.
Rooftop tent camping has statured to propose the most comfortable outdoor camping option. Right, all national parks in Uganda are set to suggest for outdoor camping options either by private lodges or public camping by Uganda Wildlife Authority (UWA).
Today however, we are not discussing where to go for camping, rather the most fascinating parks for bush/wild camping off from set accommodation of the lodges. Meaning, with you 4×4 safari vehicle with rooftop tent camping gears, take a drive into the bush and camp there for an overnight. Right, this is not so common in Uganda but of course there are designated special outdoor UWA camping sites where travelers tend to have an overnight amidst night wild roars.
UWA Camping arrangements
Uganda Wildlife Authority (UWA) has several sets of camping sites available in all Savannah parks. The authority has well organized camping sites where solo travelers or groups can decide to have a night above the ground roars and below the bird melody whispers. Every Savannah park has common and uncommon camping public campsites where every group is set with an armed ranger guide.
Rooftop tent camping becomes so awkward at night especially, when the king makes a call to other members for a bit but safety is secured.
Best spots for Rooftop Camping at Murchison Falls National Park
The park is becoming Uganda's most famous park receiving the greater number of tourists among all parks in a space of about 4 years. On addition to beautiful geography and abundant wildlife, as well outdoor camping is another thrilling adventure to consider. Murchison falls has three (3) camping sites at Delta, Mweya peninsular and at the Top of the fall.
Delta camping site
The Delta a point where the Victoria Nile joins Lake Albert, considered to be the lowest altitudinal point of Uganda standing at 619m above the sea level. This point is a hub for a greater number of animals in Murchison Falls National Park, it's a well designated camping site without a built facility apart from the water less latrines and bathing rooms.
This is a true definition of wild/bush camping in the site if far spread for easy rescue reach, but always for an overnight it's accompanied by an armed park ranger. It's perfect choice for the rooftop tent camping above the passage of various animals.
The top of the falls camping site
Wow! The sounds of battling water roars into the narrow gorge are a full accompaniment for an overnight. At the top of the falls is another opportunity available to ensure that travelers can go park their 4×4 land cruisers and climb higher for an overnight. At the top of the falls should expect to get much of the wild catches but the
Kidepo Valley National Park
The hotter northern side of Uganda facilitates the growth of shorter grasses covered with scattered wood (semi-arid) availing greatest suggestion as far as wild rooftop tent camping is concerned. Okay! Away from the well-known Apoka camping site, there other camping options which have proven the reality of wild/bush camping.
Nagusokopire Campsite
This a perfect camping option widely one can recommend to drive for a night on the rooftop tent camping. The place has only constructed facility i.e., the viewing point with a binocular a shelter for rain in case the tents are not installed and the toilets with running cold water. It's in the middle of the wilderness where you have a night alone maybe with an armed park ranger.
Camping at Lake Mburo National Park
As well, at Lake Mburo wildness camping is a reality, amidst the angry predators, there is nothing that can limit you from having a night in the direct arrays of moonlight and brightness of countless stars. There are 3 camping sites and looking forward at which campsite suggest the memorable adventure of an outdoor camping.
Not lie the mentions of Murchison Falls National Park and Kidepo Valley National Park, there are various camping sites at Lake Mburo National Park. However, the meaning of wild/bush camping where one has only and only travel with the camping gears for a night. Among the 3 camping sites of the Lakeside campsite, Rwonyo Rest Camp and the Leopard Rest Camp are all facilitated with camping options and Banda, restaurant with dilute the kind of wildness we are opting for. However, the sites a perfect to consider for an overnight in the bush.
Queen Elizabeth National Park
There is various camping option at the park for both UWA and private lodging facilities. The wildness camping adventures where one need to only and only travel with the camping gears to have a unique consideration.
The Mweya camping peninsular is a greater reflection located on the northern sector of Queen Elizabeth National Park. It is a large, open campsite active with wildlife, parking a side the 4×4 safari land cruiser can regret for such a special grant. No facilities accept flushing toilets, cold water showers, running water and firewood for the night tales' moments.