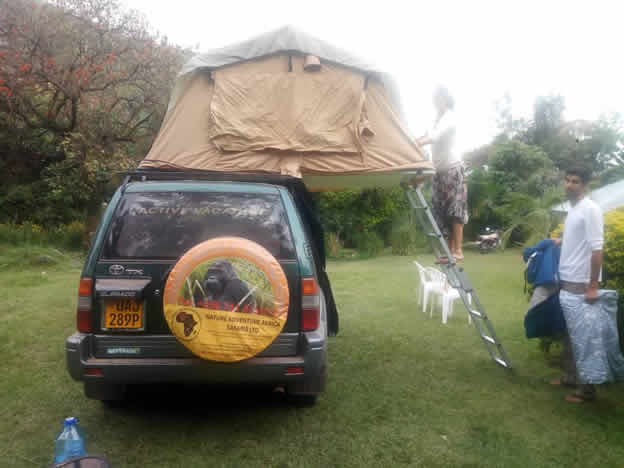 For those tourists who prefer to make their own way to their holiday destination, 4×4 Car hire Uganda offer a wide range of self- drive options, meaning you can drive your own car and enjoy as much freedom and flexibility as you like to explore and discover the best locations. There is much more to explore more than just wildlife.
Away from the Kampala city, you can drive through rolling, green countryside, peppered with quaint villages of thatched roof cottages. Some of the major points of interest to be included in a self-drive tour Uganda include Kidepo Valley National Park, Murchison Falls National Park, Kibale National Park, Queen Elizabeth and Bwindi Impenetrable National Park. Each of these national parks is worth spending a half day to full day in and are also worth driving to in a hire car for 2 0r 3 day breaks.
The 4×4 Car hire Uganda is affordable, easy and flexible. You can collect a rental car in one city and drop it at another. You can pick it up at the airport on arrival. Or we can transfer you to your hotel and then get the rental car delivered to you later that day.
The 11 day 4×4 car hire self-drive holidays highlights some of the routes that are most popular with clients searching for the Big Five game in these national parks. This popular and leisurely self- drive safari begins from Entebbe/Kampala and meanders through the eastern Uganda via Jinja and proceeds to Mbale, an exciting town at the foot of Mount Elgon. The place is rich with heritage and fascinating culture.
You will then stop for en-route lunch at Mbale and with beautiful view points on our way to Sipi Falls village nestled between mountains and waterfalls. In the afternoon you will enjoy a hike to the lovely Sipi Falls with a breath-taking walk to the bottom of the famous waterfalls and then continue with a steep climb to a series of caves as you follow the challenging trail to the other waterfalls. Dinner and overnight stay will be at Sipi Falls River Lodge.
Day 2 begins with a delicious breakfast at your lodge, the self-drive safari continues to the northern Uganda through Kitgum to Kidepo Valley National Park. It is a long journey but beautiful drive as we pass different types of landscapes and traditional villages.
This area is off the beaten track and not visited by many visitors yet. You will witness what the many years of civil unrest have done to this region but also slowly but steadily developing again. With this long journey, it is safe to travel with lunch stop en-route because you will arrive very late in the evening at the park, dinner and overnight at Apoka Safari Lodge a top end safari lodge surrounded by grassy plains and abundant wildlife.
Day 3 you will spend a full day in Uganda's Kidepo Valley National Park, the most astonishing and beautiful remote national parks of all parks in Uganda. Early morning you will explore the Narus River Valley by game driving, you will go in search for animals like elephants, buffaloes, lions, giraffes, ostriches, zebras, among others. The park is also a birders 'paradise as it boasts a bird list with 475 species.
Have lunch back at your lodge before going on a visit to one of the local Karamojong communities. The Karamojong tribe is well known for their unique nomadic lifestyle and rich traditions of storytelling.
According to anthropologists, the Karamojong are part of a group that migrated from present-day Ethiopia around 1600 A.D. and split into two branches, with one branch moving to present day Kenya to form the Kalenjin group and Maasai cluster.
The other branch, called Ateker, migrated westwards. Ateker further split into several groups, including Turkana in present-day Kenya, Iteso, Dodoth, Jie, Karamojong, and Kumam in present-day Uganda, also Jiye and Toposa in southern Sudan all of them together now known as the "Teso Cluster" or "Karamojong Cluster".
The main livelihood activity of the Karamojong is herding livestock, which has social and cultural importance. Crop cultivation is a secondary activity, undertaken only in areas where it is practicable. The availability of food and water is always a concern and affects the Karamojong interaction with other ethnic groups. After the experience with community, you return back to your lodge for dinner and overnight stay.
Day 4 you will leave Kidepo Valley National Park for Murchison Falls National Park south of Uganda. This is an all day trip with lunch in Gulu at the Acholi inn. You will enter the park from the north gate with a game drive and continue south towards the famous River Nile.
Look out for various animals like elephants, buffaloes, lions, and giraffes spotted leopard among others. You will arrive late in the evening at Fort Murchison Camp overlooking the River Nile.
Day 5 begins with a delicious breakfast at the camp; you then set off for a morning game drive through the northern bank of the Nile in search for giraffe herds, elephants, lions, leopards, herds of antelopes including the Uganda Kobs, buffalo herds, warthogs, hyenas among others. In the afternoon, the self-drive safari will be continued with a boat cruise on the River Nile for game viewing at a close ranger with school of hippos, Nile crocodiles, elephants and buffaloes that come to drink water plus water birds at the shores of the Nile.
A boat safari is one of the highlights in Murchison Falls. At the bottom of the falls we disembark and hike up to the top of the most powerful waterfall in the world, this can take about 45 minutes, after looking at the Nile squeezing though a narrow cervix then plunges 40 meters in breath-taking leap. Your drive will meet you here for your return to Fort Murchison Camp. Dinner and overnight back at your lodge.
Day 6 Today you will self-drive south via Hoima to Fort Portal through the verdant countryside and past traditional homesteads and farms along the Albertine Rift escarpments. Fort Portal rests in the shadow of the fabled Mountains of the Moon. Arrive very late in the evening with dinner and overnight stay at Kyaninga Lodge.
Day 7 you wake up for a heavy breakfast after you will go in search for half day chimpanzee tracking and other 13 primate species including the black and white colobus monkeys, red monkey, L'Hoest monkeys, grey checked mangabey, Vervet monkey among others. Your guide will provide detailed explanations about the flora and fauna of the forest and he will ensure that you walk is both informative and enjoyable.
You will observe these primates for one hour and after you will return back to your lodge for lunch. Tracking the chimps in Kibale Forest is one of the magical moments one can ever do while in this park. After lunch proceed to Queen Elizabeth National Park following the mystical Mountain Rwenzori. You will pass via the Crater Lake region and the baboon cliffs. Upon arrival, you have an evening en-route game drive to elephants, buffaloes, lions, spotted leopard among others. Dinner and overnight will be at Mweya Safari Lodge.
Day 8, early morning coffee and go for dawn game drive where most of the big game can be seen in abundance. On this game drive, you will encounter elephants, buffaloes, lions, antelopes, warthogs, water bucks and a variety of bird species. Retire back to your lodge for lunch and relaxation. After lunch, you go for boat cruise on the Kazinga Channel which connects Lake Edward and Lake George.
This offers an excellent platform for photography and game viewing. The safari rewards you with herds of hippos, crocodiles, elephants, buffaloes and water birds. Return to the lodge for dinner and overnight.
Day 9, travel to Bwindi Impenetrable Forest National Park with a game drive through the Ishasha sector in the southern part of Queen Elizabeth en-route in search for the tree climbing lions and other wildlife. On arrival, check in in at your preferred accommodation.
Day 10, following your morning breakfast, after transfer to UWA headquarters for briefing by the ranger guides. Ready with you hiking boots, long sleeved and long trouser, skin repellent, a camera, rain jacket, sun glasses, a hat, drinking water and snack, the ranger guide will lead you into the forest for an experience of a lifetime.
The area offers a dramatic, steep forested landscape and is incredibly thick and dense. Tracking these creatures may take of between 2 to 8 hours depending on the movement and where they spent the previous day. Once found, you will spend only one hour while observing and watching how they spend their daily life. After the gorilla experience, transfer to Lake Bunyonyi for relaxation with dinner and overnight at your preferred accommodation.
Day 11, after a delicious breakfast, transfer back to Kampala with an en-route stopover at the Uganda Equator crossing for photography and lunch. Proceed to Kampala /Entebbe for your flight back home.