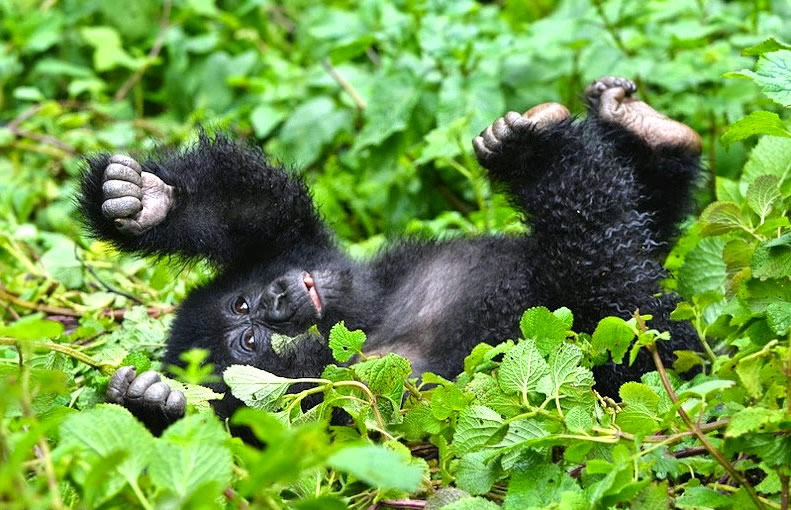 Rwanda is a small landlocked country on the edge of the Great Rift Valley where the African Great Lakes region and East Africa converge. One of the smallest countries on the African mainland, its capital city is Kigali which is centrally located closer to the Ugandan border making it superbly a top safari destination.
The land of a thousand hills, Rwanda's stunning scenery and warm climate, friendly people offer unique experiences in one of the most remarkable countries in the world. It is blessed with extraordinary biodiversity, with incredible wildlife living throughout its volcanoes, montane rain forest and sweeping plains, Chimpanzees, golden monkeys and other primates live alongside hundreds of brightly coloured birds, orchids and butterflies.
Rwanda is filled abundantly with natural beauty including one of the world's endangered primates the mountain gorillas. Rwanda gorillas are found in the Volcanoes National Park where tourists from the world over can and have gorilla trekking tours any day of the year.
There are currently 10 habituated gorilla families each of which can be visited by a maximum of 8 visitors per day. Viewing time is limited and people are permitted to stay with the gorillas for a maximum of 1 hour only. Gorilla trekking involves walking long distances through thick vegetation and up steep, wet and muddy terrain which may prove a challenge for some visitors.
Other attractions in Volcanoes National Park include the Dian Fossey grave and research centre. She was an American primatologist who protected gorillas and believe they would live among humans. In Volcanoes National Park you can also be able to engage in Golden Monkey trekking which is an amazing experience.
Visit Akagera National Park for wildlife including Lions, Elephant, Giraffe, Hippo and more, and Nyungwe National Park for the variety of primates including Chimpanzees, adventure mountaineering expeditions to Karisimbi and Bisoke mountains, canopy walk (the first of its kind in Africa), historical and heritage tours and of course relaxing and exploring beautiful Lake Kivu.