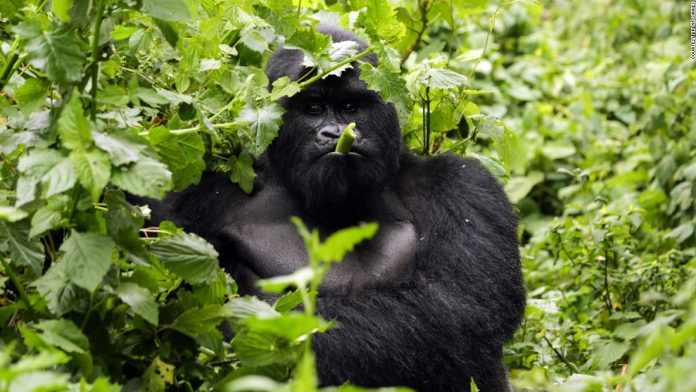 Rwanda is famous for its gorilla trekking opportunities in the Virunga Mountains. This is where Dian Fossey researched and habituated mountain gorillas in the 1960s. Although gorilla trekking is a once-in-a-lifetime experience, the country has a lot more to offer while on your tour in Rwanda parks.
In fact, if gorilla trekking is beyond your budget, Rwanda is still worth visiting as an up-and-coming destination offering primate walks, volcano hikes and bird watching in Volcanoes National Park. Also, if this is also beyond your travel list it is much easier to cross from Rwanda to Uganda or Virunga and experience the very affordable gorilla trek in Bwindi, Mgahinga and Virunga parks.
Seeing mountain gorillas in Rwanda's untamed mountain jungles is a hot adventure item finding growing popularity with intrepid travelers eying Africa for summer getaways. Gorilla trekking in Volcanoes National Park, via Rwanda's capital Kigali, through a seemingly boundless expanse of the thick misty jungle on the slopes of the imposing Virunga Mountains, is an experience like no other.
No place is better suited for a jungle adventure mix of superb gorilla trekking and conservation tourism than Rwanda's Volcanoes National Park. And with an insane price tag on permits at $1500, expect a royal treatment throughout your whole adventure experience.
Gorilla trekking in Volcanoes National Park begins at 08:00 am, irrespective of the date or weather. Expect to spend a night at a forest lodge near the visitor centre and be up before daybreak.  A ranger briefing trekkers before they set eyes on the gorillas.
Expect to be at the visitor centre by 07:30 am for briefing and then drive a couple of minutes from the visitor centre to the trailhead to start your adventure into the wooded wilderness.
Gorillas are enormous animals: a fully-grown silver back can weigh about three times as much as the average man. A shaggily luxuriant coat exaggerates their bulk. And yet, despite their intimidating size and appearance, gorillas are remarkably peach-loving creatures.
Almost everybody who comes for gorilla trekking experiences an almost mystical sense of recognition when they look into their sunken polite eyes.
The magical hour with the gorillas is undoubtedly expensive, and getting there can sometimes be exhausting work. The hike up to the volcanoes bamboo forest habitat involves steep, slippery slopes in dense vegetation at high altitudes. Only reasonably fit adults can visit the more accessible gorilla groups.
Tourists are allowed to spend no more than an hour with the gorillas. They're not allowed to eat, urinate or take-a-shit anywhere near the gorillas or even let a gorilla watch them crap.
Gorillas are susceptible to many human diseases. Researchers have long feared that a tourist carrying infectious diseases might infect a gorilla on a visit. Resulting in the possible death of the whole troop should they have no immunity to that disease. Avoid gorilla trekking in Rwanda if you think you're carrying a potentially airborne infection such as flu or a cold.
A gorilla trekking permit in Rwanda, including park entrance, costs $1,500. The pass is strictly for trekkers above 15. You'll not be allocated a specific group in advance. Still, the guides at the visitor centre generally make an effort to match people to a group based on their apparent fitness — Sabyinyo and usually Agashya (Group Thirteen) being the least demanding hikes and Susa, Isimbi or Karisimbi the most challenging.
Park regulations require all trekkers to check-in at the park headquarters at Kinigi at 07.00. Here, they can enjoy a complimentary tea or coffee and use the last clean flush toilets. Before you head out, a park warden will allocate your trekking party to one of the eight habituated gorilla groups. If you want to visit or to avoid any specific group, it helps to be there a little early, so you have time to chat with the rangers.
A briefing is held at around 07:30 am, after which you must drive to the appropriate trailhead. Hence, the actual gorilla trekking generally starts between 08:15-08:30 am or as late as 09:30 am for the more distant groups.