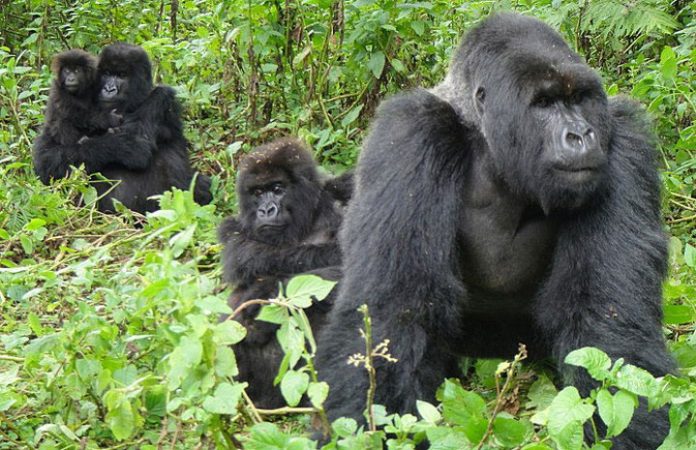 A memorable Ugandan safari with gorilla safaris tours. What an unbelievable adventure in to the wilds of a truly stunning country. The attention to detail, from the multiple email exchanges prior to the trip, to the support offered to us throughout our time in-country, really made us feel cared for.
The 9 Days Uganda Gorilla and Chimpanzee Safari features the destination Bwindi Impenetrable National Park which is the greatest Mountain Gorilla habitat on earth with almost a half of their world population approximately 459 out of 1063. The park comprises of dense forest undergrowth with mature trees that form the canopy while standing on a rugged hilly landscape with deep saddles which combine to justify it as an impenetrable forest.
This natural setting makes the gorilla trekking tour encounter in Bwindi to go beyond only gorillas. Being from Africa, I've never believed that I would ever go on a 9 day fully guided safari to see wildlife. Initially, this trip was primarily to see Gorillas and Chimpanzees. However, to my surprise, Uganda has so much more to offer.
The itinerary was so well-planned and because of our guide's local knowledge and contacts he was able to make slight tweaks to ensure we had the smoothest experience and I had one of the best experiences of my life. Gorilla Safaris Tours put on a great show, one that I will never forget and one that I will live to tell my friends and friends of friends.
From what I've seen, they are very good at communicating everything in detail before the trip, and from the moment our Tour guide Emma picked us up from the airport hotel, till the time that we bid farewell, he was nothing but kind helpful and polite. But what stood out was his passion for what he does and his knowledge of everything related to Uganda, not just the safaris.
The safari also covered Queen Elizabeth National Park which stretches over the western arm of the East African rift Valley for 1,978km2 overlooking the mystical Rwenzori Mountains. The park is a home to over 600 species of birds, the 95 mammal species, the impressive 45km long Kazinga Channel connecting Lake George and Edward, Ishasha sector with its tree-climbing lions, the Kyambura gorge and Kalinzu Forest Reserve – the home of chimpanzees and the remarkable scenic Katwe explosion Crater.
This park rewards you with morning and evening game drives through Kasenyi the north Kazinga plains and the Ishasha sector offer virtually guaranteed buffalo, antelope and elephant sightings along with warthogs and baboons. The afternoon at Queen Elizabeth Park rewards a launch trip at the Kazinga Channel an oasis for many of the fascinating species that inhabit the park and taking a boat tour along it gives visitors the chance to cruise just meters from hundreds of enormous hippos and buffaloes while elephants linger on the shoreline.
The Engagi lodge in Queen Elizabeth National Park deserves our mentioning. Its spectacular views and level of hospitality match international standards. Queen Elizabeth National Park with her abundant wildlife including elephants, lions, leopards. I highly recommend the cruises on the Kazinga channel and the boat ride too see the hippos, Nile crocodiles and many other animals and birds who come to drink and bathe.
There is a small lodge in Kibale National Park, whose manager David gave us a memorable treat. The sounds the chimpanzees make even before seeing them is super exciting and it still rings in my ears every time, I remember the trip on look at our pictures from the trip. Having trekked for about an hour on largely flat terrain to find the chimpanzees, we came across this large troop with some of the members up in the trees while a few others were on the ground. One female with a baby came very close to where we were standing and it was just wow!
It literally gave us a good opportunity to take as many pictures. The chimps up in the trees did not mind us as they went about their day enjoying some kind of fruit. The swamp/community walk in the afternoon is also a must if you are not too tired. My wife Barb keeps reminding me of the local dish of bananas and beans with a mixture of green vegetables that was tasty.
The gorilla trek in Uganda was our highlight of this safari. Special gratitude goes to our awesome and highly knowledgeable Safari guide, Emma. He made our safari a memorable one. And lastly experience the magic of gorilla trekking in the wilds of Bwindi Forest National Park. This once-in-a-lifetime experience allows you to get up close and personal with these gentle giants of the jungle in their natural habitat.
Your guide leads you to a meeting point in the forest where a senior ranger guide from the Ugandan wildlife Authority agency takes over. Once the gorillas are found, you spend an hour with them, walking at their grace and power. The next time we return to Uganda, we shall ensure he guides us once again.
I highly recommend gorilla safaris and Emma as the best guide when visiting Uganda. I do feel lucky that I found them when my other company failed. So glad to choose Uganda as a lovely country. I do recommend to do more than one day of gorilla trekking as everyday was a new experience and saw different behaviors. Definitely a trip of a lifetime for me.