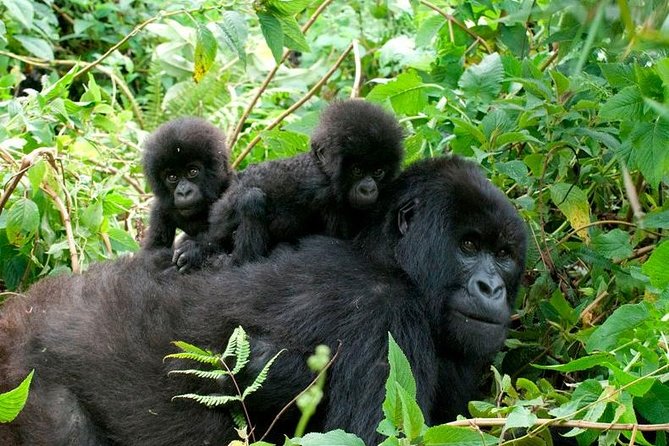 Planning a safari in Rwanda can be combined with other safaris in Uganda, Kenya, and Tanzania to fully explore East Africa. You can expect that your air and road transport will be completely seamless, with every tiny detail taken care of well in advance.
We ensure that you are privately whisked from one Rwandan destination to another smoothly; we seek out charter aircraft wherever possible, or schedule other modes of transport exclusively for you.
Expect suites with luxurious bedding and homely lounges that you have to yourself, alongside the opportunity to revel in stunning views interrupted only by the sounds of the wilderness.
Dine on the finest gourmet food set on fine china and sip excellent wines in crystal glasses. Look forward to discreet service from staff that understands your bespoke need for solitude, then relax under the expert hands of Rwandan masseuses as they chase the aches and pains from your muscles before leaving you to luxuriate in a hot bath. Your opulent safari holiday will have all this and more.
Start with Rwanda's Volcanoes National Park, home to the highest population of mountain gorillas in the Virunga Conservation Area. We offer rescue services in case of any eventuality while on a gorilla trek experience or any other wildlife tour ensuring a peaceful and memorable gorilla tracking experience.
Meet face to face with your close relatives, learn about their social lifestyles and have fun with these amazing primates in the shortest time possible. You will trek one of the 10 habituated gorilla families in Volcanoes National Park.
These families include Hirwa, Agashya, Karisimbi, Sabyinyo, Susa A, Amahoro, Umubano, Titus and Pablo gorilla group. The trip starts with a pick up from Kigali International airport and 3 hours' drive to reach Volcanoes National Park. Volcanoes National Park is the prime gorilla tour destination in the Virunga Conservation Area bordered by Mgahinga Gorilla National Park in Uganda and Virunga National Park in the Democratic Republic of Congo.
A permit for gorilla treks in Volcanoes National Park costs $1500 allowing you to spend an hour with the endangered primates. The allowed time to spend with the endangered gorillas is strictly an hour counted from the time you meet the gorillas.
You can spend between 30 minutes to over 6 hours depending on your hiking speed and the location of the gorillas. The bamboo forest park is also home to the endangered golden monkeys habituated for trekking at $100. More so, you can take part in hiking anyone of the dormant volcanoes in the park. Mt Karisimbi, the highest volcano in the Virunga Conservation Area is the best for you.
Combine the trip with Uganda giving you another look in a different country with a different safari package. Whether you are yearning for a Uganda luxurious honeymoon, Luxurious honeymoon safari, luxurious family safari, luxury gorilla safari or luxury wildlife tour, be assured of experiencing the unspoiled African wilderness.
This country boasts of numerous National Parks and Wildlife Reserves, offering opulent safari lodges and tented camps. For top city breaks, Entebbe, Kampala and Jinja offer different luxury Hotels.
Uganda luxury safaris are enhanced by fly-in luxury Uganda safaris into the different safari destinations, using luxury safari vehicles for getting to or around the different destinations as well as having a luxury Uganda safari with a private safari guide for travelers who wish to elevate their experiences to another level of grandeur. Your trip is only as amazing as your guide and having a private guide with many years' experiences will guarantee unforgettable experiences.
Go for the Luxurious Safaris in Murchison Falls National Park
Murchison falls National Park in north-western Uganda is the country's premier National Park and undeniably offers some of the most luxurious places of lodging in addition to unmatched wildlife viewing experiences.
The Luxury trip to this Protected Area starts with a private flight to any of the park's Airstrips (Chobe, Pakuba and Bugungu), followed by pick-up by a private and comfortable Land cruiser to any of the luxurious accommodation options such as Chobe Safari Lodge, Paraa Safari Lodge, Nile Safari Lodge, Baker's Lodge and Fort Murchison among others.
Travelers will get the opportunity to undertake private game drives, boat cruises, guided nature walks, sport fishing and the unrivalled hot air balloon tour. This Safari destination is possibly the most popular place for Uganda luxury safaris, drawing celebrities such as Koshie Mills, Sophia Anna Bush, Kanye West and Kim Kardashian, to mention but a few.