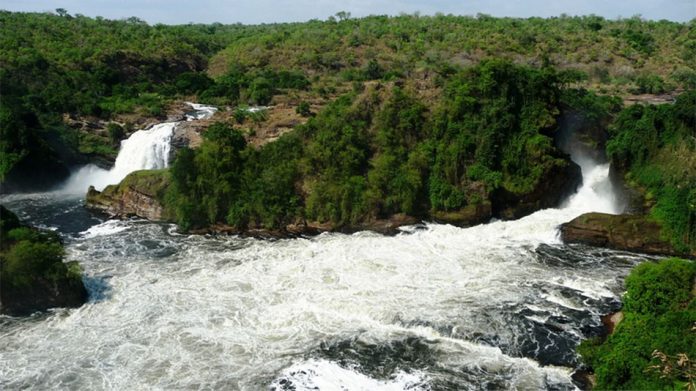 Murchison Falls National Park lies in the northern end of the Albertine rift valley. It is Uganda's largest and oldest conservation area hosting 76 species of mammals and over 450 birds.
The Park is bisected by the Victoria Nile which rushes 45m over the remnant rift valley wall creating the dramatic Murchison Falls National Park.
The stretch of River provides one of Uganda's most remarkable wildlife spectacles such as the regular visitors to the River banks which include elephants, giraffes and buffaloes well as hippos, Nile crocodiles and aquatic birds are permanent residents.
There are many activities that you will be able to perform while in the Park and these include; birding, game drives, hiking and nature walks, launch trips, sport fishing and cultural encounters.
Birding is one of the best activities on your Uganda safari in Murchison Falls National Park and this Park is one of the Parks in Uganda best for bird watching due to the high number of bird species it protects (over 450 bird species).
Both the game drives and the launch trips offer an opportunity for one to come across distinct bird life including savannah forest birds, water birds and Albertine rift endemics.
The Park's main birding attraction is the Shoe bill which is best sighted in the dry season from January to March.
Game driving is also one of the most ideal activities in the Park due to the Park's vast land. Due to game driving, you will be able to see many beautiful things in the Park and you will be able to photograph the wide range of animals in the Nile Valley.
Your guide will have a good idea where the lions are hiding and you may even spot a leopard at dusk.
The vast landscapes and varied scenery plus the surrounding conservation area of Murchison Falls National Park can be explored on foot.
Trails through Kaniyo, Pabidi and Rabong forests provide sightings of many primates and birds while around the Nile delta, 2 to 4 hour guided swamp walks offer possible Shoe bill sightings.
Launch trips in Murchison Falls National Park presents an astonishing display of wildlife and climaxes with memorable frontal view of the falls.
The banks of the Nile below Murchison Falls provide exciting challenges to anglers. Living within strong currents plus the oxygenated waters is the Nile Perch.
You will also be able to also participate in spot fishing together with the local anglers who will teach you how to fish and there is a chance to land on a high catch because there is even a record of catching a 108kg Nile Perch.
At the Park you will also enjoy the energetic dancers from Mubako who will be performing around lodge campfires thus making for a magical African experience at dusk while the Boomu women's group will offer you accommodation, a craft shop and village tours revealing the realities of life in this rural community.
The Park consists of various lodges for a tourist who would like to visit Murchison Falls National Park will live in and these include; Chobe safari lodge, Bakers safari lodge, Murchison River lodge, Paraa safari lodge, Nile safari lodge, Bwana tembo safari camp, Sambiya River lodge and Pakuba safari lodge.