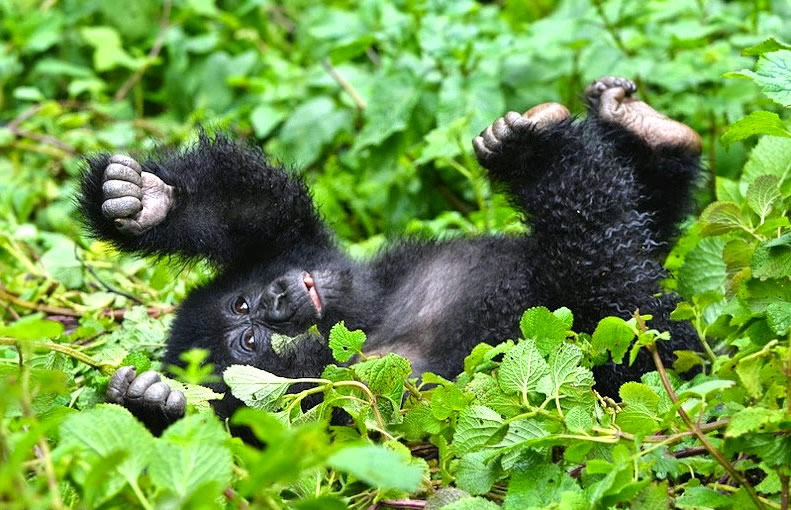 In 2017 I visited Rwanda for a luxury gorilla safari tour. I booked for my tour with the best tour company in Rwanda, Eco Tours Rwanda via email. The company provided me with the luxury vehicle which I used for my tour, I used a VX vehicle and guide which were both in a very good condition and I didn't get any interruption on my way to the Park and also in the Park. Gorilla permit in Rwanda costs US$ 1500 and gorilla tours in Rwanda are only done in Volcanoes National Park.
Before going in Rwanda for my tour, I first consulted from the Eco Tours Rwanda for the best place for gorilla tracking since I had searched and found that it is the best tour company in Rwanda. They told me that it is only in Volcanoes National Park therefore I had book for my tour earlier since they had told me all the costs of my tour.
In securing and confirming my tour with the tour company, I first paid some deposit however I planned for my tour some eight months back before I went to visit Rwanda in 2017. I visited Rwanda in late August but I had got interest from my friends who had visited Rwanda recently and they are the ones who advised me to use the best tour company (Eco Tours Rwanda) for best and immediate services and indeed when I used it, I got a memorable tour in Rwanda and my tour was joyous.
In accessing Rwanda, I used the Turkish Airline flight which removed me from my country direct to Kigali International airport where I found the Eco Tours Rwanda's tour guides "Baker" waiting for me and gave me a very friendly and warm welcome to their country thus I was so delighted to interact with such kind and friendly people.
They treated me like a president and they never allowed me to un – comfort myself by carrying the gadgets I came with and they were the ones who carried all my belongings I came with to the vehicle which they used to pick me from the airport and the vehicle was a V8. It was a luxury vehicle indeed because I reached to my booked hotel which I spent a night from when am relaxed and comfortable.
I spent the overnight in Serena Kigali Hotel which was also a luxury hotel because in a room I slept in, it was self contained and it had a mosquito net preventing mosquito bites which could spread malaria to me. The hotel had a lounge bar, restaurant and a swimming pool of which I enjoyed a lot and it is like my tour began from there however in the morning I set off to Volcanoes national park which was a 2-hour drive from Kigali city.
One good thing I noted in Kigali city is its good and clean roads which also gave me a nice view and while I was still in Kigali, I thought even like I was in heaven, oh my God! The city is really clean and organized.
When I reached Volcanoes National Park, I was able to do the gorilla tracking since I arrived in the Park at 06:47am and I was able to be pre – briefed which took place from the head offices of Volcanoes national park at 07:00am. Later we started gorilla tracking by 08:00am and we were given Park guides to take us through the activity. We were allowed 8 individuals per group to track the primates and when we found them, we were told to spend one hour with the gorillas and also be at least 8 meters from the Park.
The Park has some rules to follow during gorilla trekking and some of them include; you should not be sick to track gorillas because they catch human diseases, do not mimic the primates because you might not know what you are talking, you should be physically fit and only individuals above 16 years of age are allowed to track the gorillas.
Besides gorilla tracking, I also viewed a variety of bird species plus the hiking of Bisoke volcano which was for one day. However, during gorilla trekking, we were all allowed to go back to our lodges to have lunch and later return to the Park for various activities. I stayed at Mountain gorilla view lodge which was very luxurious because it has a swimming pool, bar and a restaurant which serves local and international dishes. Breakfast, lunch and supper are all served at the lodge.
In the Park, I was able to visit the Dian Fossey's tomb which is near the Karisoke Research Centre she had formed before being assassinated by the un-known assassins and I was able to take its photos. The Park is really photogenic due to the brilliant landscape of it. I took photos of the Mountain gorillas, Bisoke volcano, Birds, Caves in the Park and my tour was really a memorable one which I don't think that I can ever forget in my life. After having a luxury tour in Volcanoes national park, I then went back to the Kigali international airport and got a flight back to my home country. I really thank the Eco Tours Rwanda for making my gorilla safari in Rwanda a memorable and luxurious one and I also advise you to use the same tour company for your tour to be a memorable one.