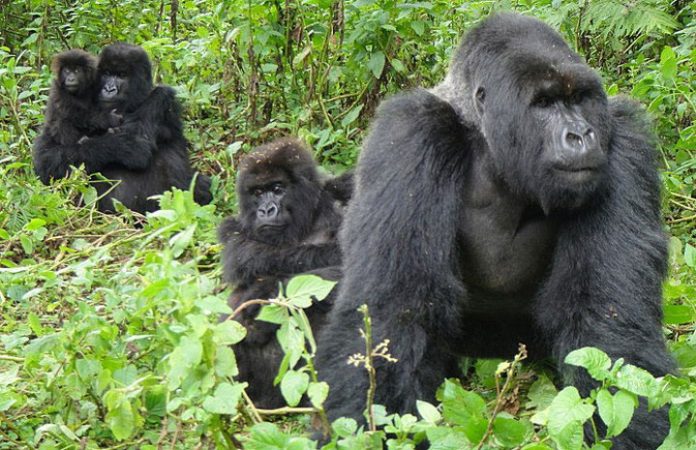 Gorilla Trekking Tours in Uganda, Rwanda & DR Congo
When you try to ask thousands of travelers about their main reasons for a safari to East Africa, Gorilla trekking can't miss among the answers.
This activity is one of the world's most appealing adventures.
It grants tourists any opportunity to meet the rarely seen species of Gorillas in their natural homes.
If you are not one of those who got the chance to see these animals physically, it is time you think about it because you are missing a lot.
Nothing is more breathtaking than wandering through the Jungle via rugged trails in search of these giants of the jungle.
You have plenty to appreciate including the unending views of stretching grasslands, forest cover in the valleys, towering hills, and more.
Gorilla trekking as an activity is special in its way.
It specifies the number of people. Only a group of eight tourists meet one gorilla group each day.
A congregation of forty people is divided into five batches and assigned to five families.
Trekking excursions start after a short briefing conducted to highlight trekkers on how to behave while in the presence of the Gorillas.
These animals like hiding deep in the forest, so don't be surprised when you take long to find their exact location.
The time taken and distance to move depends on where these creatures spent their last night.
Requirements for Gorilla Trekking
To trek gorillas in Uganda, Rwanda, or DR Congo, you must buy a permit. This card issues you permission to see the apes as they carry out various activities.
It is valid for use by one person on the respective booked date.
A Gorilla permit costs $700 in Uganda, 1500 USD in Rwanda, and $400 in the Democratic Republic of Congo.
Apart from that, age is another thing to think about. The minimum age for trekking is 15 years.
Moreover, all those who want to see Gorillas must be free from any infectious disease. Don't forget to pack some essential things for your trip.
The list includes strong hiking boots, insect repellents, long-sleeved shirts and trousers, stockings, gloves, nose masks, sunglasses, capes, an umbrella, waterproof bags, and jackets.
Where we take you
If you are addicted to Gorillas, here are the three destinations for you.
Uganda
Situated in the eastern region of Africa, this country tempts travelers with incredible allures.
Gorillas are some of the major draws that tourists don't want to miss while in this pearl of Africa.
This nation is next to Kenya in the East, Rwanda in the southwest, and Tanzania in the South, DR Congo in the west, and South Sudan in the north.
It is home to two parks that provide lush habitats to the species of Mountain Gorillas. These are Bwindi Impenetrable National Park and Mgahinga National Park.
These protected areas house over 20 fully habituated gorilla families that are available for trekking expeditions.
Rwanda
Dubbed the land of a thousand hills, Rwanda is a must-see destination in Africa. It has a collection of attractions that enchant tourists from various corners of the World.
If culture, history, food, and mountain hiking doesn't appeal, this spot is also famous for its unique wildlife.
Most travelers pack for the mountain Gorillas that reside in the notable Volcanoes National Park.
Besides Gorillas this park in the northwestern part of Rwanda play host to numerous species including primates like Golden monkeys, vervets, baboons, and more.
DR Congo
If not Rwanda or Uganda, DR Congo is a fantastic alternative for those who fancy ultimate gorilla tours in Africa.
It is found in the central region of the continent. This vast country consists of two prominent parks that are ideal for incredible gorilla encounters.
These are Virunga National Park (known for Mountain Gorillas) and Kahuzi Biega National Park (home to the Eastern Lowland Gorillas). Both parks occupy part of Land in the eastern region of DRC.
What's the best destination?
What matters most is how successful was your excursion? For those who need a gorilla safari, you have three options to choose from.
Some tourists choose to do an incredible gorilla trekking expedition that combines the three countries.
If this doesn't appeal, you are free to meet these creatures at any destination of your choice.
Some people are limited by some factors like time, money, and age. DR Congo is the best for anyone who is after a cheap adventure.
Its permit is a bit less expensive when compared to that of Rwanda and Uganda.
Rwanda is great for tourists who hate long-distance drives. For variety, Uganda remains a prominent choice.