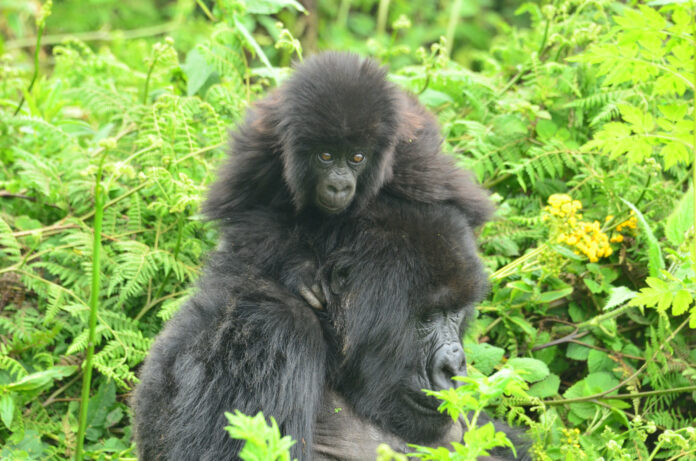 If you have not yet got a chance to step into Africa, there is something unique you are missing in this continent. Africa has a lot to appreciate but for the primate or ape lovers, it is the gorillas for you.
Gorillas are huge in size, tailless, hairy, and herbivores in nature. There are two species with four subspecies. These animals are rarely seen and few have got the opportunity to meet them. Seeing these apes in the jungle as they carry out different activities is an unforgettable experience.
It delights tourists with breathtaking views of these animals as they perform various actions like playing, laughing, construction of temporary shelters, and a lot more.  To be part of this expedition you must buy a permit and it's valid for use by one person.
If you want to do gorilla trekking on your holiday in Africa, below are the best destinations you can visit for an unmatched experience.
Uganda
Renowned as the pearl of Africa, Uganda welcomes thousands of travelers who come in to trek Gorillas. This nation has two national parks which protect the species of mountain gorillas.
These are Mgahinga and Bwindi Impenetrable national park. Both parks occupy some portions of land in the western part of Uganda. Bwindi is divided into four sectors and has the biggest percentage of Uganda's gorilla population.
Each gorilla family is available for a group of eight tourists per day. On your gorilla tour in Bwindi, you can see these apes in Ruhija, Rushaga, Buhoma, and Nkuringo sectors.
Other than Bwindi, tourists visit Mgahinga for Gorillas. This park has only one gorilla group and it is known as the Nyakagezi gorilla family.
Rwanda
Rwanda shares borders with Uganda in the north, Tanzania in the east, and DR Congo in the west. Most tourists know it as the land of a thousand hills but it is also ideal for gorilla trekking.
All visitors from other parts of the world land at Kigali international airport. This facility is a few kilometers from the center of the capital.
A gorilla safari in Rwanda will take you to Volcanoes National park. Located in the northwestern region, this park is home to mountain gorillas and other primates like golden monkeys.
DR Congo
If not Uganda and Rwanda, DR Congo is the best alternative for you. This nation ranks the second-largest in Africa. It differentiates itself unique with two species of Gorillas in two separate parks.
Mountain gorillas reside in Virunga National Park and Kahuzi Biega is a great habitat for the Eastern lowland gorillas.
Cost of a gorilla permit.
Gorilla trekking in Uganda, Rwanda, or DR Congo requires a permit. Everyone who wishes to be part of the activity must buy a permit. The price for this card varies according to the destination.
You can get one for Uganda at 700 USD. In Rwanda, it is $1500 per person. The one for the Democratic Republic of Congo goes for 400 USD per person.
If not Gorillas what else in Africa?
Game viewing
If gorillas don't appeal you can see the big game. Countries like Uganda and Rwanda have a wealth of wild animals including the African big fives.
A game drive in Kidepo, Murchison, Queen, Lake Mburo, or Akagera national park will treat you with unending spectacular views of different wild animals.
Chimpanzee tracking
This excursion grants you a grand chance to meet the species of chimpanzees in their natural habitats. These creatures are one of the reasons for most trips to East Africa.
To enjoy this experience make sure to include Kibale forest national park, Budongo forest, Kyambura gorge, or Rwanda's Nyungwe forest national park on your wish list.
Golden monkey tracking
Golden monkeys are species of the old-world monkey family. There are herbivores and feed on the young bamboo shoot and stem.
Therefore it is no surprise that these primates are mostly found in bamboo forested areas. Travelers visit Mgahinga national park in Uganda or Volcanoes in Rwanda to meet these creatures.