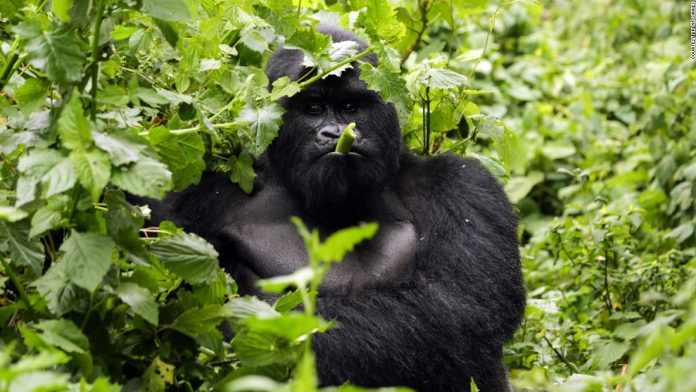 Visit  Africa's Mountain Gorillas In Uganda
If you are searching for that unique activity that can leave you with never-ending memories after your wildlife safari in Africa, Gorilla trekking is the best answer.
The pursuit grants tourists a great chance to meet the Gorillas in their natural homes.
These animals are rarely seen and named amongst the most loved tourist attractions around the World. Seeing these apes physically is usually an exceptional experience.
Therefore it is not hard to understand why there are ever included on most adventurers' wish list for Africa, especially those who are addicted to wildlife.
Only three countries in Central and East Africa are available for the remarkable gorilla trekking expeditions. The list displays Uganda, Rwanda, and the vast Democratic Republic of Congo.
All these destinations have a lot to offer for those who are after gorilla tours in Africa, but here are the reasons why you should see the Gorillas in Uganda.
Ease of Accessibility
Some countries tend to make it hard for foreigners entering from other nations. This is common for nationals of states that have some disagreements.
Uganda is open to travelers from all corners of the World. No one can deny you entry permission if you have the required documents.
Before you board the plane, make sure to pack your valid passport, yellow fever vaccination card, tourist visa, and a PCR covid-19 test done within 72 hours of arrival.
Favoring Travel Conditions
You can't have a successful holiday in a destination with unfavorable traveling conditions.
With this, I try to mean security, transportation, service providers, climate change, financial stability, hospitality, and food.
For Uganda everything is great.
Apart from being secure, this country has one of the best transport systems in East Africa, fantastic climatic conditions, legit service offerings, delicious food served in multiple appealing eateries, and friendly locals.
Support for Gorilla Conservation
To trek Gorillas in Rwanda, Uganda, or DR Congo, you must buy a permit.
Part of the money paid for this card is used to support the conservation programs and organizations that look after the lives of Gorillas.
One of them is Gorilla doctors, an organization dedicated to conserving Wild Mountain and eastern lowland gorillas.
Founded in 1986, this agency provides lifesaving veterinary medicine services to these great animals.
Plenty of Other Things to Admire
Other than Gorillas, there are lots of thrilling allures to appreciate in the pearl of Africa.
Some of these are the lively cities, pretty beaches, and a myriad of wild animals including the African big fives, the snow-capped Rwenzori mountain ranges, historical sites, rich culture, and the tasty local cuisine.
Besides, highlighted below is the detailed information you need to know about Gorilla trekking in Uganda.
Things Required
Adding to the must-buy Gorilla permit, be sure to come with some other essentials to have a victorious safari.
Some of these are strong hiking boots, insect repellents, enough clothing like long-sleeved shirts and trousers, head shocks, gloves, sunglasses and capes, leisure time electronic gadgets, a good camera, waterproof bags, and jackets.
Where to Go for the Experience
In Uganda, tourists see Gorillas in Bwindi Impenetrable and Mgahinga Gorilla national park. These two protected areas occupy part of the land in the western region of Uganda.
You can get there by road transport or a private charter from Kajjansi airstrip.
Bwindi has the biggest percentage of Uganda's Gorillas. It is home to over nineteen fully habituated families available for the excursions.
Gorilla trekking in Bwindi takes place in its four sectors named Nkuringo, Buhoma, Rushaga, and Ruhija.
Aside from that, Mgahinga has one family and only a group of eight tourists visit it per day.
Moreover, Mgahinga is the only place in Uganda where you can find the notable Golden monkey primates.
Cost of the Permit
A Gorilla permit in Uganda costs $700 per person and it's valid for use by one traveler on the respective booked date.
This card is only issued by the Uganda Wildlife Authority. To avoid disturbances, make sure to reserve your card through a local tour operator.
Best Time to See Gorillas In Uganda
Since the excursion includes treks via rugged trails through the jungle, the rainy season isn't an ideal period for a gorilla trekking adventure.
During this season, there are heavy rainfall drops, some parts of the jungle are watery and trails are hard to pass.
Be sure to arrange your Gorilla safari in the country's two dry seasons (December – February, and June – September).
Minimum Age for the Excursion
The minimum age for gorilla trekking in Uganda is fifteen years. These Giants of the jungle are big and appear scary to children. That's why only adults are permitted to visit them in their natural habitats.
Accommodation in the Parks
All areas for a Gorilla trekking tour have multiple lodging facilities reserved for tourists to stay.
Whether you fancy luxury, mid-range, or budget services, there are all in place and offered at competitive prices.
Read More; Premier Gorilla Trekking Tours in Uganda, Rwanda & DR Congo.