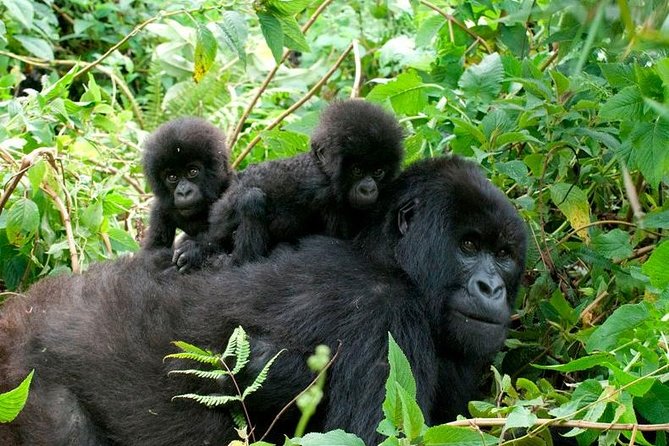 Lying at the heart of Africa, Rwanda is one of the most astonishing leisure destinations, offering vibrant cities, pristine wilderness and an exceptionally hospitable people.
A unique and largely undiscovered venue, Rwanda also offers unrivalled biodiversity, beautiful mountains, some of the oldest and most precious rain forests on earth, five volcanoes, numerous waterfalls, and three stunning national parks. Experience Rwanda's famous national parks and games parks.
Discover wildlife, culture and landscapes with a personalized authentic safari experience with Gorilla Safari Tours. Rwanda is known as a primate tracker's paradise with two primate national parks including Volcanoes National Park and Nyungwe National Park.
In the northeast, bordering Tanzania, is sprawling Akagera National Park and its savannah uncommon in Rwanda which shelters wildlife including zebras, giraffes, hippos and elephants. Deep, crystal clear Lake Kivu sits on the country's western border with Democratic Republic of Congo.
In the southwest of Rwanda lies Nyungwe Forest National Park with ancient montane rain-forest that's a habitat for chimpanzees and other primates. Nyungwe Forest National Park is the largest remaining tract of montane rain forest in eastern Africa; Nyungwe extends for 1,015km over the mountainous southwest of Rwanda.
As with the forests along the Albertine Rift, the part of the Rift Valley follows the Congolese border with Uganda, Rwanda, Burundi and northwest Tanzania, Nyungwe is remarkably rich centre of biodiversity.
Nyungwe Forest has a wide diversity of animal species making it a priority for conservation in Africa. The forest is situated in a region in which several large-scale bio-geographical zones meet and variety of terrestrial biomes provides a great span of microhabitats for many different species of plants and animals.
Nyungwe Forest boasts 13 primates' species including chimpanzees, Rwenzori colobus, L'Hoest's monkeys, silver monkey, golden monkeys, Red-tailed monkeys, 275 bird species, 1068 plant species, 85 mammal species, 32 amphibian and 38 reptile species. Many of these animals are restricted –range species that are only found in the Albertine Rift montane forests Eco region in Africa.
While on a safari in Rwanda, a traveler can visit Nyungwe National Park for primate tracking. The Chimpanzee tracking encounter is conducted daily departing at the park headquarters at Uwinka Reception Centre in the morning and tends to last about 2 to 5 hours. The chimp experience opens you to the rich encounters with impressive bird species, flora and fauna and waterfalls.
Once with the chimps, you get spend a maximum of one hour as you watch and observe them in their natural habitat. The Rwanda chimpanzee permit costs $90 USD per person, porters are available at Cyamundongo at $10.
Like gorilla tracking, you need to be prepared for lengthy hikes that can take up to eight hours. However, the vegetation on the forest floor is much less than in the Virunga Mountains where the gorillas live, so the walk is generally less tiring.
Apart from tracking chimpanzees, visitors can also track colobus monkeys a subspecies of the widespread black and white colobus, the Angolan colobus an arboreal old-world monkey that is distinguished by its black fur and long silky white locks of hair.
Besides tracking primates, Nyungwe Forest has a number superb walking trails that being at Uwinka Reception Centre and it is not possible to walk in the park without a guide and the guide is included when you pay the park fees.
Walks begin at times and the first departures around 9am and others around 11am and 2pm. You can also access the canopy walkway which is on the Igishigishigi Trail and involves a preliminary 20 to 30 minute hike from Uwinka. Canopy safaris cost $60 USD per person.
In Rwanda, Volcanoes National Park is the section of the great volcanic massif called the Virunga Mountains that borders Uganda and the Democratic Republic of Congo. Volcanoes national park is situated in small town of Musanze only 12 km from Kinigi, visitors can reach Musanze by public transport from Gisenyi, Kigali or from the international airport.
The park is home to over half of the worlds' population of mountain gorillas and golden monkeys. Gorillas share 98% of their DNA with humans, making them our closest cousins after chimpanzees and bonobos. These shy, intelligent animals often surprise us with behaviours and emotions so similar to our human experiences.
The drive to the park from Kigali is 2 hours, so it is very possible for one to do a gorilla safari the same day and drive back to Kigali for overnight or for departure. But tourists planning to use public transport to the park should note that there isn't provision of public transport from Musanze to the headquarters of the park at Kinigi.
Rwanda is now home to 12 habituated groups of mountain gorillas that are scattered all over Volcanoes National Park. Gorilla trekking in Rwanda starts early in the morning and heads to the Park HQ for briefing and then in parties of eight will be taken to your allocated group with a guide and trackers.
Once you find the gorillas you a given a maximum of 1 hour to be with the gorilla as you take pictures and videos doing their daily activities. Witnessing gorillas express typically human gestures and emotions is a truly a profound experience and one of the reasons that gorilla trekking is such a life changing encounter.
Apart from tracking mountain gorillas in Volcanoes National Park, Visitors can also participate in golden money tracking. Tracking to see golden monkeys (Cercopithecus Kandti), is another highlight in Rwanda's Volcanoes National Park.
The golden monkey is specie of old world monkey found in the Virunga volcanic mountains of Central Africa, including four national parks: Mgahinga, in south-west Uganda; Volcanoes, in north-west Rwanda; and Virunga and Kahuzi-Biega, in the eastern Democratic Republic of Congo.
It is restricted to highland forest, especially near bamboo. The golden monkey lives in social groups of up to 30 individuals. Its diet consists of mainly the bamboo, leaves and fruits, though it is also thought to eat insects.
Treks to see the golden monkeys take place in the morning and visitors are permitted to stay for 1 hour with the monkeys. Departure for golden monkey trek is from the park's Ntebeko visitor centre. The number of visitors is not limited and the fee for a golden monkey permit costs $100 per person. Porters can be hired at the entry of the park.