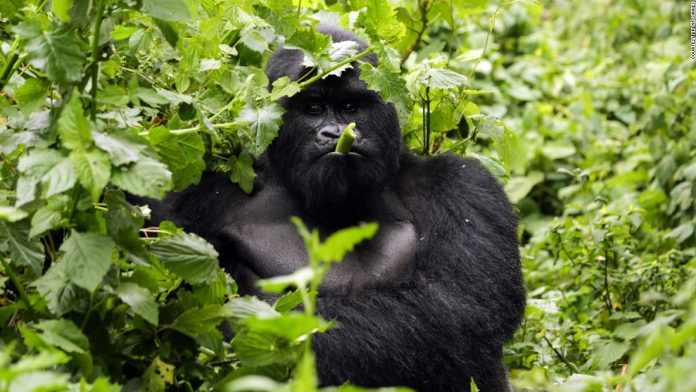 Gorilla trekking safari in Bwindi gives you an exceptional trekking experience while on your tour to Uganda. Bwindi Impenetrable National Park is located in southwestern Uganda a magnificent verdant swathe across the steep ridges of the Albertine Rift Valley.
This ancient rain forest is one of the few in Africa to have flourished and a home to half of the world's endangered population of mountain gorillas. Looking into the expressive brown eyes of these apes is surely the most exciting and unforgettable wildlife encounter Uganda tour has to offer.
There are 4 locations for tracking gorillas in Bwindi Impenetrable National Park these are Buhoma, Ruhija, Rushaga, and Nkuringo. The 4 locations have a total of about 18 families as of December 2018. Tracking permits need to be bought prior to tracking by booking with us.
Permits can be paid for up to two years in advance. Only 8 visitors are allowed to view the gorillas for one hour per day, participants must be aged 15 or over and they will be accompanied by Uganda Wildlife Authority guides while with the gorillas. Tracking the gorillas can last from a few hours to a whole day, depending on how far the group has moved.
Although tracking mountain gorillas can be conducted all year round in Bwindi due to the somewhat damp seasons experienced by the national park in which these gorillas stay, the majority of tourists prefer visiting from June to September as well as from December up to February.
Every gorilla permit goes for US $ 700. In the past years, April, May and November used to cost US $ 450. Please note that these offers no longer exist. On a single day, nearly 72 people travel into Bwindi to see gorillas and only 8 people are allowed to see a gorilla family.
We strongly encourage you to book your gorilla safari permit with a safari agent, the most prominent mistake is to book a gorilla family which is far away from your choice of accommodation!
The routes to Bwindi and its various regions are often tricky; this is a remote area. If you would like to do the gorilla trek on your own so as to save costs, you might end up incurring more.
Lake Bunyonyi known to be the place of many little birds and the loveliest lake in Uganda. Its shore encircles 29 islands, surrounded by steep terraced hillsides reminiscent of parts of Nepal.
A magical place, especially with a morning mist rising off the placid waters, it has supplanted the Ssese Islands as the place for travelers to chill out on their way through Uganda, and has a selection of gorgeously remote places to stay on distant islands, where you've only the birds for company.
Best of all unlike many lakes in East Africa, Bunyonyi is bilharzia, crocodile and hippopotamus free, and so its crystal-clear waters are all yours to swim in.
You will be welcomed by the sweet sounds of the birds, the word Bunyonyi means small birds in the local language. Upon arrival, you will go for a canoe trip on the lake whereby you will be able to see various birds, communities, land forms such as the islands (around 29 islands are in the lake).
Take as much photographs as you can. After the canoe, have lunch and in the evening go for a community/nature walk through the Batwa and Abahesi communities.
The 29 islands also include Punishment Island and Bushara Island which are all concentrated in the central part. This water body is known for the surrounding terraced hillsides and is a visitation darling of many foreign and domestic tourists with a number of accommodations.
Located seven kilometers west from Kabale Town, southwestern Uganda, and Bunyonyi is surrounded by hills that are high and intensely cultivated. Take up Lake Bunyonyi Safari to enjoy and experience the unique gifts of nature.
Nature walks:
Walking around the Lake Bunyonyi waters while listening to bird songs and the tearing water and consequently the feeling of the fresh breeze of Lake Bunyonyi and community around.
Bird watching:
This is a key activity and a majority of bird species can be noticed, there are more than 200 species of birds recorded. Using a boat ride to the neighboring Nyombi swamp, one is able to see a selection of bird species over the trees and the sky.
Swimming:
The waters of Lake Bunyonyi are free from the hazards of bilharzia, dangers of crocodiles, hippos and other threatening animals thus do not miss swimming opportunity. There are swimming spots with swimming docks on some islands of the lake.
Boat cruise and canoeing can also be enjoyed around the lake. This will help you experience the quietness, calmness and the tranquility of Lake Bunyonyi. A canoe ride at night is thrilling given the loud chorus of crickets, frogs, nocturnal birds singing plus the waving lake waters which all make the ride exceedingly exciting.
Cultural tours:
There are attractive cultural and natural sights like the Bakora cave, the Batwa [pygmies] and the Abaheesi [traditional black smiths] communities that are accessible in close proximity. Also visiting islands around the lake like Habuharo, Akempene and Bucuraniko Island is a memory-catching experience.
Visiting pygmies:
Take a boat trip to the local communities of the Batwa/pygmies who live in the islands near the lake and see their ways of life, activities and their charming cultural dance performances.