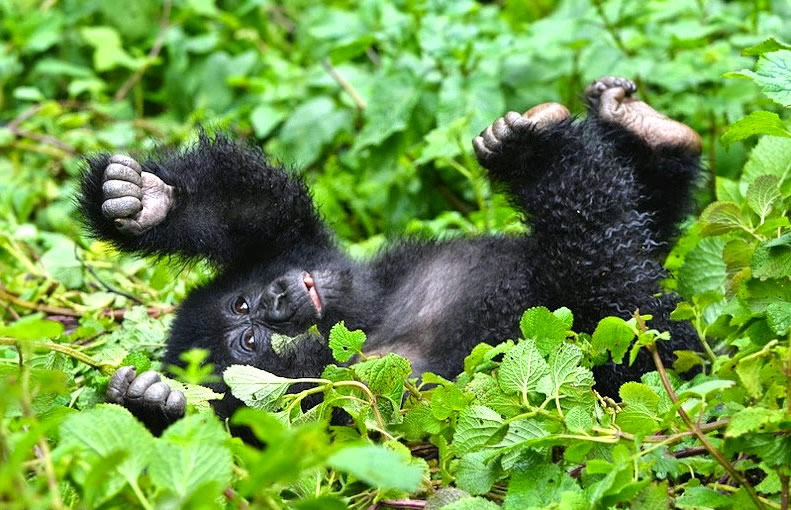 There are few destinations you can go for Mountain gorillas around the World. One of them is Mgahinga National Park. This remarkable destination occupies a certain portion of land in the western part of Uganda, the pearl of Africa.
It is located along the country's border with Rwanda and the vast Democratic Republic of Congo. Therefore, it is not a surprise that some tourists cross from Rwanda or DR Congo to see gorillas in this park.
Travelling from Kampala by car is possible. It is a long drive, but worth it when you reach the park. About 8-9 hours are enough to finish this 485 kilometers journey. It includes a stopover in Mbarara to have lunch.
Don't be surprised when you take less or more time than what is mentioned above. Usually this time taken depends on several factors including speed used and the weather conditions. The shortest route is Kampala – Masaka – Mbarara road.
After lunch, you enjoy the drive again up to Kisoro town for another stop over to stretch a bit. From here you can continue to your lodge or park offices in Ntebeko. Other than road transport, you can reach Mgahinga National Park by plane.
Airline operators like Aerolink offer scheduled trips from Entebbe to an airstrip in Kisoro. From this location, you continue by car up to your next destination.
Activities to do in Mgahinga
Gorilla Trekking
Without doubt, gorilla trekking is the main reason for a safari to Mgahinga national park except for travelers who hate apes. This activity is the only way to meet these animals in their natural habitats. Gorillas live very far deep in the forest.
They don't like open places, that's why it is not possible to see them if it's not a Uganda gorilla tour. Trekking gorillas in Mgahinga is a daily activity. Only one family is fully habituated and available for the excursion. Only a group of eight tourists are allowed to visit this family per day.
It starts with a morning briefing to let tourists know how to behave while in the jungle. After you walk through the jungle until you find these gorillas. Once discovered, you are allowed in their presence for a period of one hour.
Don't forget to come with your packed food, drinking water and waterproof jackets and bags to protect your gadgets from rain water. To participate in this activity, you must buy a gorilla permit which is valid for use by one person. This permit costs 700 USD per person in Uganda.
Golden Monkey tracking
If you prefer primates to Gorillas, you are also covered. Mgahinga is a great habitat for the species of the old world monkey family. An organized tracking adventure will let you meet these animals in the forest. These animals are mostly found in the bamboo forested mountainous areas of Mgahinga.
Everything that takes place with this activity is almost similar to gorilla trekking but what differs is what you search for and number of people allowed per session. Remember to come with a good camera or phone with perfect camera such that you take pretty photos of these animals.
Batwa trail experience
This is for tourists who love culture. On this expedition you will have an insight into the cultural traditions of the Batwa people. These prominent tribe of people migrated from the Ituri forest reserve of the Democratic Republic of Congo.
Some settled in Uganda and others in Rwanda. These people were forest dwellers, used forests as their shelter, bush meat as food and tree leaves as medicine. The trail experience is the best way to know more about them.
You will visit the Garama caves, local communities, enjoy traditional dances and participate in various activities. It is a mind-blowing experience you must not miss after a gorilla trek in Mgahinga. It feels awesome to spend some good time with the Batwa in their local communities.
Volcano climbing
Besides Gorillas and Golden monkeys, Mgahinga is home to three of the eight Virunga volcanoes known as Gahinga, Muhabura and mount Sabyinyo. With these three dormant volcanoes, it no surprise that Mgahinga is listed amongst Uganda's best destinations to hone your hiking skills.
Come well equipped with all what's required for a mountain hiking adventure such as strong hiking shoes, capes, sunglasses, head shocks, gloves, waterproof bags and jackets, insect repellents to name but a few.
The adventure usually inspires travelers with the never ending spectacular views of pretty landscapes, escarpments, towering volcanoes and various wildlife species. These activities mentioned above will keep you busy for all the days you will be in this park
Apart from that, there are many lodging facilities for a visitor. Whether you are a budget, mid-range or luxury traveler, there is a perfect room or permanent tent for you. Make sure to reserve in advance during the peak season.