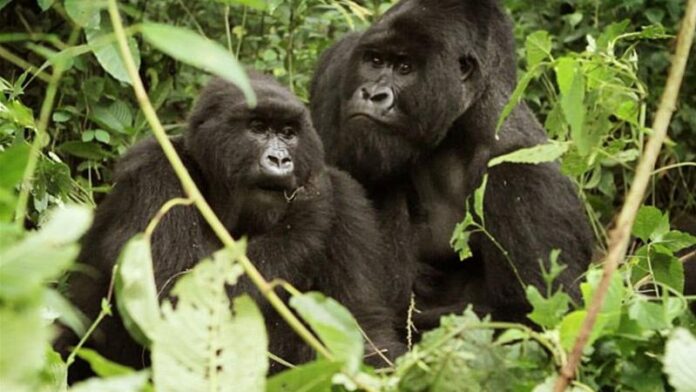 Uganda, Rwanda and Democratic Republic of Congo are the only countries protecting the rare endangered mountain gorillas.
DR Congo is central sub-Saharan African country well as Uganda and Rwanda are East African countries.
Out of all the three countries, Rwanda has the most expensive gorilla permits, which were raised to US$ 1500 per permit, and thus most of Rwanda's tourists cannot afford to buy them.
Even though gorilla trekking in Rwanda is very expensive, tourists should not be worried on where to find the gorillas because Uganda is so close to Rwanda and it also protects the mountain gorillas, of which they can be trekked at a lesser price compared to that of Rwanda.
Therefore, Eco Tours Congo will organize for you a good itinerary including tracking the chimpanzees in Nyungwe Forest National Park and viewing ''Africa's big five'' in Akagera National Park and then cross to Uganda for trekking the mountain gorillas at a cheaper price.
Uganda has the highest number of mountain gorillas world-wide and the gorilla trekking activity can be done in two national parks, which are Bwindi Impenetrable Forest National Park & Mgahinga Gorilla National Park.
A gorilla permit in Uganda costs US$ 700, and it will be purchased for you by your beloved chosen tour agency such as Eco Tours Congo.
Some trekkers will also love to trek Uganda gorillas but want to drive less, by flying into Kigali instead of Entebbe International Airport.
One will drive for only 4-5 hours from Kigali to Ruhija (Bwindi) instead of the 8-9 hours from Entebbe International Airport to Ruhija.
With bookings with either Eco Tours Congo, you will be picked from Kigali International Airport or any hotel in Kigali to start your ''Uganda gorilla safari from Kigali'' journey to Bwindi Impenetrable National Park.
The journey is very scenic and will take you through a country of a thousand hills (Rwanda) to the Pearl of Africa (Uganda).
You cross over to Uganda at Katuna or Cyanika boarder for a stop at Kabale town (Katuna) or Kisoro (Cyanika) before proceeding to Bwindi Impenetrable National Park for overnight.
Bwindi Forest National Park inhabits almost half of the total number of mountain gorillas existing on earth and the park, as of current, consists of 18 gorilla families which are trekked from its four sectors; Buhoma sector, Rushaga sector, Ruhija sector, and Nkuringo sector.
Uganda therefore comprises of a total of 19 gorilla families, of which the other one is found in Mgahinga Gorilla National Park.
Mgahinga Gorilla National Park is also found in the same region with Bwindi (in south-western Uganda).
Nyakagezi is the only habituated gorilla family in Mgahinga well as the other 18 habituated gorilla families in Uganda are found in Bwindi, and they include; Habinyanja, Mubare, Rushegura, and Katwe (in Buhoma sector); Bweza, Mishaya, Mukyunguzi, Kahungye, Nshongi, Busingye, Bushaho, and Bikyinji (in Rushaga sector); Nkuringo, and Christmas (in Nkuringo sector); Kyaguriro, Oruzogo, Mukiza, and Bitukura (in Ruhija sector).
There are many good accommodations in all Uganda's gorilla trekking destinations ranging from budget to mid-range and then to luxury, thus it is up to you to choose the accommodation of your choice depending on the money you have.
However, even though you go for a budget gorilla safari but you have booked with a better tour agency such as Eco Tours Rwanda, which has a great experience in eco tourism all over Africa, the agency will work restlessly to meet your desired goals and it will ensure that you get a good quality budget accommodation that will make you feel like you are in luxury.