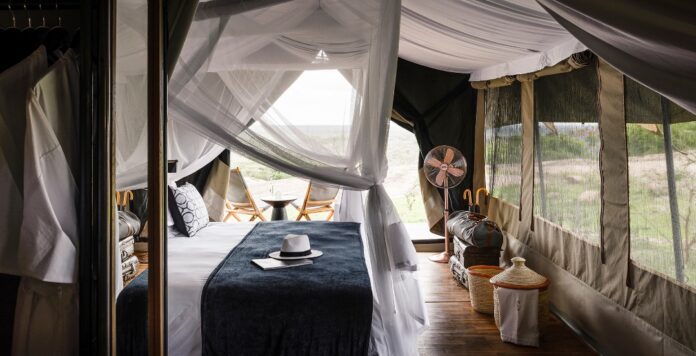 While at the opulent Mikeno Lodge, you will indulge in a variety of mesmerizing and memorable activities among which include:
Mountain Gorilla Trekking:
Immersing yourself in this lifetime experience of trekking the endangered mountain gorillas in their natural habitats is exceptionally unrivalled.
Being located in one of the few mountain gorillas' refuges, Virunga National Park, Mikeno Lodge offers gorilla trekking tours more special in Africa's oldest national park.
Virunga National Park is one of the only four national parks, worldwide, protecting the endangered mountain gorillas and in fact its gorilla permit is much cheaper.
For every tourist to go for this breathtaking activity, he/she is entitled to buy a DR Congo gorilla permit which costs US$ 400.
The permit is bought from the headquarters of Virunga National Park and Mikeno Lodge will automatically help you in this, in case you are to stay here. Advance booking is usually essential.
With gorilla trekking in Virunga, you will be able to trek one of the eight habituated gorilla families in the Park which include; Kabirizi, Rugendo, Mapuwa, Munyaga, Nyakamwe, Humba, Lulengo, and Bageni.
Like all the gorilla trekking expeditions, you start with briefing which is done from the starting point before entering the forest for a close-up encounter with these beautiful creatures.
Factually the trekking of endangered mountain gorillas is a strenuous activity which calls for an extra effort, therefore if you are ill or sick you are humbly advised to eschew doing this activity till when you are fully okay.
Meanwhile, you are also emphasized to hire porters who will assist you in carrying your luggage thus freeing you as you go for this arduous activity.
Hiring porters is optional but in doing so, you are helping the local community through employing them – porters are really cheap but give an essential assistance in gorilla trekking excursions.
The time (one hour) you spend with the endangered mountain gorillas is really precious and memorable as you will experience several things about these easy on the eye creatures.
Community Walks
While at the Mikeno Lodge, you can also opt to go for the community walks where you will be visiting the local community and interact with the local natives.
This will really offer you a great experience in this legendary national park because you will discover a lot of unique things, apart from only trekking the endangered mountain gorillas.
In visiting the local community, you will get to know all the things attached to its people and fully immerse in their rich cultures.
Among the people you will interact on the community walk include the unique Batwa people who are famous for their interesting background of living deep in the forest and also being fruit gatherers and hunters.
You can also indulge in the Batwa cultural trail which is led by the Batwa themselves and offers visitors a chance to learn how they make their huts, eat some of their locally prepared foods, dance to songs/tunes from local music instruments and learn their hunting skills.
Other activities during the Batwa community visit include learning how to harvest honey and their ancient farming methods/ tools.
Nature Trails
Virunga National Park has great diversity in plant and animal life. Going for a guided nature walk through secure sections of the park offers tourists with beautiful scenery and landscape including magnificent sights of volcanoes such as Nyiragongo and many other Virunga volcanoes.
During the nature trails/walks in the Park, one can spot all kinds of wildlife ranging from primates, mammals, amphibians and reptiles as well as a myriad of bird species.
Besides the endangered mountain gorillas (park's chief attraction), the other wildlife to spot while on the nature trails include; blue monkeys, chimpanzees, grey checked mangabey, Hamlyn's monkeys, Dent's Mona Monkeys, elephants, olive baboons, and many others.
While at the Virunga National Park, one can also take walks to view the eroded valleys of Sinda and Ishango or marvel at the snow filled Rwenzori Mountains across the border in Uganda.
Nyiragongo Hiking
During your stay at the Mikeno Lodge, you will also have a huge opportunity to hike up to the summits of the Nyiragongo Volcano.
Mikeno Lodge will arrange for you the memorable tours to this unique volcano whose summits contain a bubbling lava lake (largest in the world). There are really stunning views while at the top of Nyiragongo Volcano.