Uganda is everything you expect to see in Africa, from the beautiful friendly people, to the charismatic animals, and the wild and picturesque scenery. My husband and I had only had a short time to see all we could, and Emma our guide at 4×4 Car Hire Uganda ensured we got to see what we asked for, and more.
The Uganda tour was amazing, even though it was raining all day we managed to see so many beautiful wild animals and encounter with gorillas was very amazing, it exceeded all of my expectations. Our tour guide, Emma, did a great and providing a lot of information regarding the wildlife.
We rented a car with a driver and guide, Emma, for our 21 days trip around Uganda with 4×4 Car Hire Uganda and it was a perfect choice. Planning to go to Uganda on a tour as was and addition to our 09 days Tanzania trip that I enjoyed with my husband and we had a great time.
Then we hatched a plan to go for gorilla trekking and other wildlife for 21-day in Uganda. We contacted 4×4 Car Hire Uganda on what's app, they arranged our trip at unexpected cost and it was last minute and unforgettable experience and what made affordable is that they recommended to us the 4×4 rooftop tent jeep and with this you can stay in wilderness.
The car was impeccable and our driver was always up to the challenge even though we had a tight schedule. If not him, our trip wouldn't go so smoothly. Emma knows Uganda as his pocket and is a very experienced safari guide. I can recommend this company and driver without hesitation to everyone willing to explore this beautiful country and learn more about local cultures, food and habits.
The experience was great in every detail, with plenty of animals and different landscapes. Uganda is so beautiful and rich of things to see and do, however, the best part was the people I encountered along the way.
In 21 days I explored many (most?) of the national parks in Central and Western Uganda plus a bonus day to explore the markets of Kampala. The main stops and nature-related highlights Kampala Murchison Falls National Park – Savannah with plenty of wildlife and a beautiful double waterfall, Kibale National Park – forest at 1000+m elevation, home of many primates including chimps, Queen Elizabeth National Park – Savannah, volcanic lakes, tree climbing lions, Bwindi Impenetrable Forest National Park – forest at 1500+ elevation, one of the few places in the World to encounter mountain gorillas, Lake Mburo National Park – Savannah and lake with more and different wildlife.
Moses – the owner of 4×4 Car Hire Uganda – organized a 4×4 rooftop tent Land Cruiser and a guide – Emma – that also drove me around. These kind of vehicles are the most common for tourist to go on safari and to deal with the sometimes harsh off-roads of the country.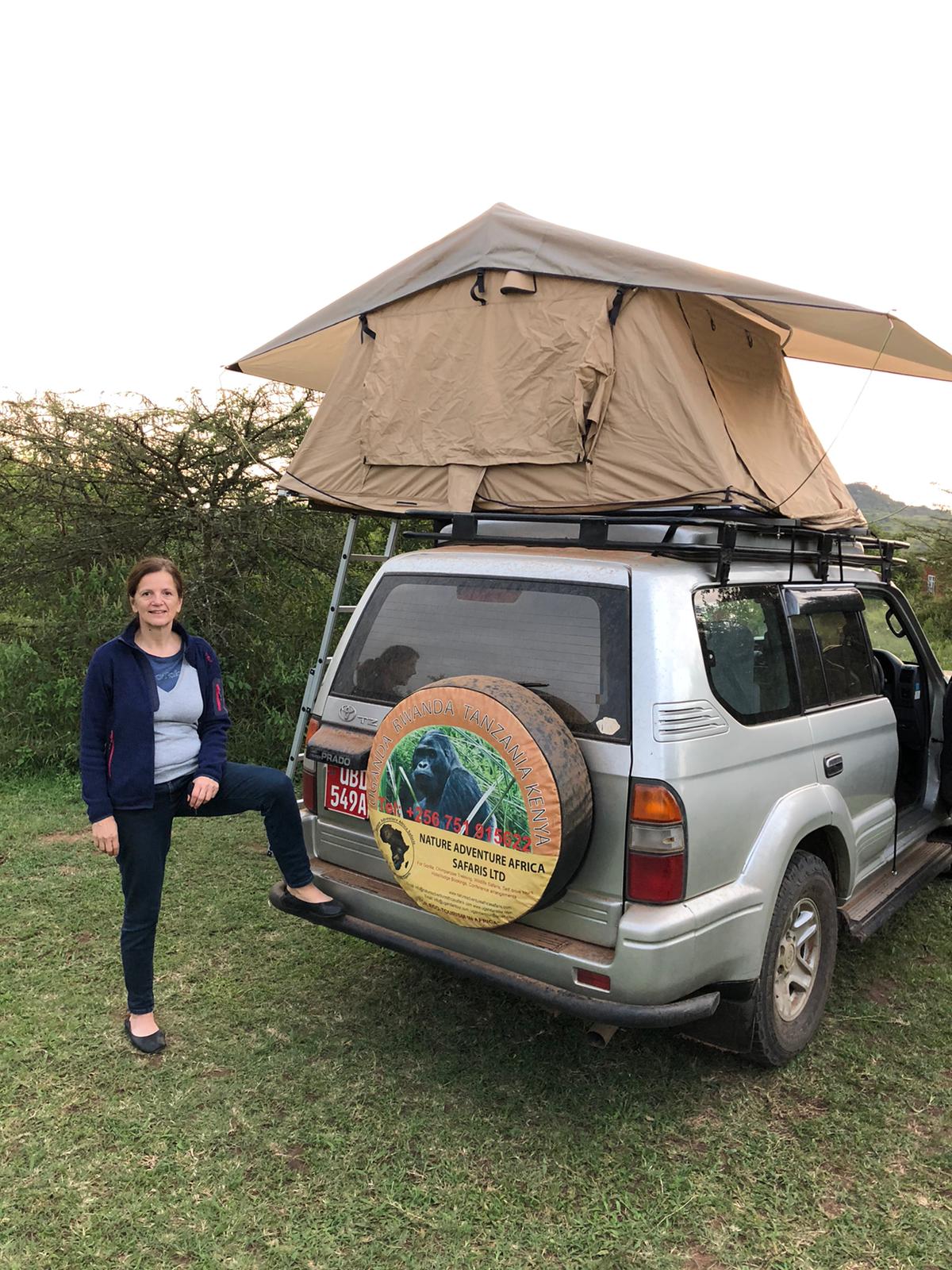 Emma was an impressive guide, by far more knowledgeable – or at least willing to share – than the guides I encountered in each park. Not only so, he is a continuous source of interesting conversation topics and he was always curious about topics I brought up.
Conversations spun from football to history, from politics to family, from conservation to business, never boring. At the same time, he was always very respectful of my privacy and afternoon car naps.
He is also an experienced and careful driver: I always felt safe, even in Kampala's traffic or on the crazy potholes in the mountain dirt roads. Eventually, spending ten days together resulted in a strong bond: as Emma says, you meet as a customer and a guide but you leave as friends.
I mostly slept in mid-budged lodges, with single room and private bathroom. Most of them were lovely, with kind staff and colorful style. All were clean and comfortable. Some of them had great food, though I admit I am pretty flexible on this matter. I am sure that both cheaper and more upmarket solutions are available, depending on preferences/budget.
I had many doubts before booking with 4×4 Car Hire Uganda, partially due my inexperience with Eastern Africa and its companies, partially due to the fact that the company appears under different names (I learned that this is to appeal people interested in traveling to different destinations).
I exchanged 50+ emails in which Moses not only helped me defining and refining the itinerary, but he was also very patient in clarifying all my doubts about the payment (50% is upfront) and the affiliations reported on the company website.
After the experience I can happily say that there was no reason to doubt. The trip went exactly as described, the accommodations were mostly beyond my expectations, and the price was the best I was for offered from the many companies I contacted.
Moses was always professional, helpful and kind, I can only recommend to contact her if you are planning a trip to this incredible country.