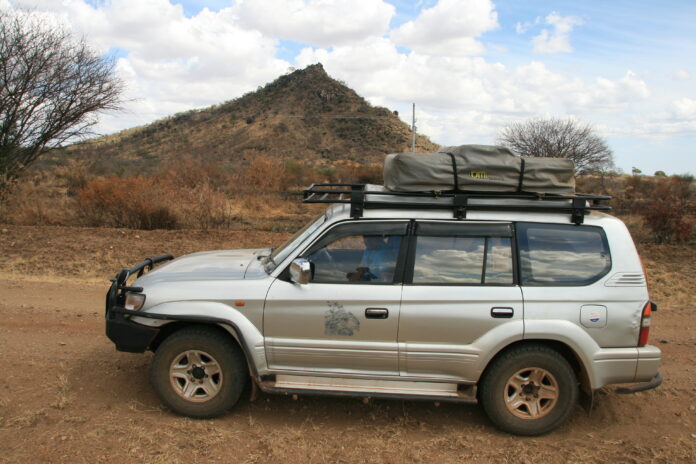 Planning to visit East Africa on an affordable means, it is better you on self drive holiday and with this experience you rent a private car and then you drive your self around. Before few car rental agencies used to offer 4×4 cars and the experience was minimal enjoyable and today with the new technologies new technics have been introduced and car rental agencies offers 4×4 rooftop tent car rental with all the camping gears and easily offering tourists to take amazing wilderness experiences across East Africa.
All our 4×4 self drive car rentals are stationed in Kampala, Uganda but for our tourists or travelers interested to start their adventures in Tanzania or Kenya we do deliver the car to you in Arusha or Dar es salaam – Nairobi or Mombasa and it is the traveler to meet all logistics to bring the car in Tanzania and the rental count down begins on the very day that this car starts movement from Uganda to Tanzania.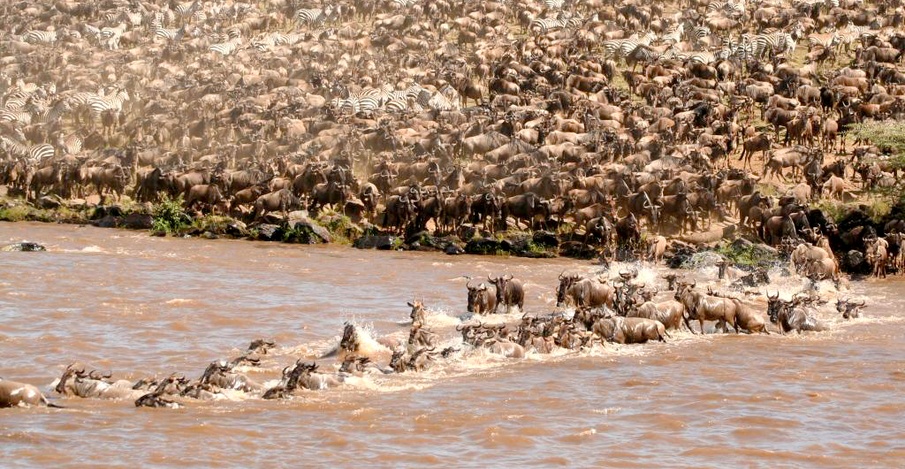 Serengeti National Park – Tanzania is a wildlife photographer's dream come true. With one of the world's largest and wildest animal populations, the country offers some of the best safari opportunities on the continent. Zebra, lion, elephant, antelope, flamingos, wildebeest, giraffe, cheetah, chimpanzees, you'll find them all here. So don't forget to pack your camera, some extra batteries, spare memory cards (or film if you still use it) and your charger.
The Serengeti National Park with its wide expanses of grassy plains and heaving annual migration is just the start. Nearby, Ngorongoro with its natural amphitheatre walls is home to some of Africa's densest large mammal populations, while Lake Manyara is famous for its tree-climbing lions and pink flamingos.
All though form part of the well-trekked Northern safari circuit and are popular tourist hotspots. In peak season (July-August) it can get crowded with packs of khaki-clad tourists in safari vehicles jostling for position. But don't let this put you off; all will surpass your wildest expectations as they did mine.
If you want to escape the tourist treadmill head south where you will find relatively untrammeled parks like Ruaha and Mikumi which still offer plenty of big game viewing albeit in less abundance to their northern counterparts. Alternatively, head west where you can track chimpanzees in the thick forests of the Mahale Mountains and Gombe National Park, where Jane Goodall carried out her ground-breaking research.
When you do manage to lower your viewfinder, you will find there's much more to Tanzania than famous parks and abundant wildlife. There's Africa's highest mountain, the majestic snow-capped Mount Kilimanjaro, vibrant, bustling towns such as Tanzania's safari capital, Arusha, and, my personal favourite, Mwanza on Lake Victoria, pristine sandy beaches and stunning coral reefs.
Not to mention a handful of irresistible islands including the mythical Zanzibar with its labyrinthine old Stone Town ruined palaces and Persian baths. With so many choices on offer, the hardest thing is trying to fit everything in. Endless rolling bleached grasslands with scattered flat-topped acacia trees and animals everywhere.
Masai Mara – Kenya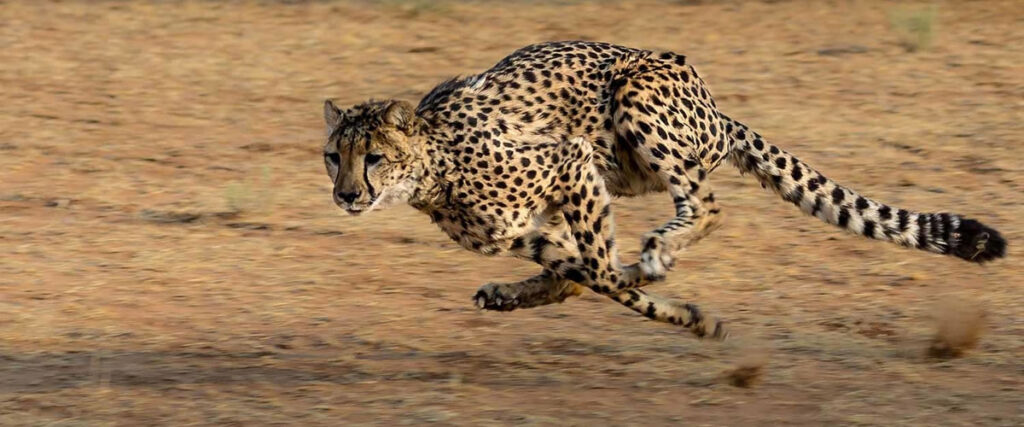 Kenya should be the world's finest safari destination. It has every natural advantage. Wrapped around the equator, it has the most extraordinary range of landscape, from the Indian Ocean to the Turkana Desert, the Great Rift Valley to the forests of Mt Elgon and the soaring highlands of Mt Kenya. The country even shares the great wildebeest migration with Tanzania, as some 2 million plains animals circle the Serengeti Plains, which reach north into Kenya as the Masai Mara.
It was here that the safari was born with 'great white hunters' pouring in from across Europe in search of trophies from the 1890s onwards. Photographic safaris came later, popularized by movies such as Hatari, starring John Wayne (1962) and Born Free (1966), based on the real life story of Joy and George Adamson, Elsa the lion and their life in Kenya. Kenya really should have everything.
Visit Kenya and you can have superb safari experiences. The country has some of the finest lodges in Africa, an incredible range of wildlife, birds and scenery. But it all comes at a scary price. There are two tiers of Kenya safari these days. The first is a fairly grim, crammed three-day minibus expedition from the coast to Tsavo and/or Amboseli involving too much driving, too many people and not enough wildlife.
The other is extremely high end, quite magnificent and uber – expensive. There is no middle ground, partly because park fees are now so high that they have priced ordinary people out of the market completely. It's a desperate shame and a serious worry. If they are not careful, they will kill the golden goose.
Tourist hot spots such as Amboseli (perfect for that money shot of elephants wandering against the backdrop of Mount Kilimanjaro), and the Masai Mara – where on my last visit I witnessed a lion kill, had a close up encounter with a big cat whilst on foot, and sat watching vast streams of grunting wildebeest cross the river are deservedly popular.
Bwindi Impenetrable Forest – Uganda
Uganda's biggest attraction is mountain gorilla tracking. Seeing these gentle giants has been one of my best wildlife experiences ever. With Congo being unstable, Rwanda is the only other country where this is offered. Aside from gorillas, the forests of Uganda are a good place for seeing a wide variety of primates including the charismatic chimpanzees. Many tourists pop over to Uganda for a quick gorilla visit after their Kenya or Tanzania safari, but Uganda is a worthwhile savanna safari destination in its own right.
Both Queen Elizabeth and Murchison Falls national parks offer good sightings of lions, elephants, buffalo and other Savannah wildlife. The quite recently established Ziwa Rhino Sanctuary is a great place to see white rhino on foot. The game viewing might not quite be on a par with Kenya and Tanzania, but the stunning scenery makes up for that.
One of the great highlights is the boat trip on the Nile to the base of Murchison Falls, where the water forces its way through the narrow gap in the Rift Valley escarpment. Tourist numbers are much lower and the industry doesn't seem as mature as in its neighbouring countries, but if you can handle a few hiccups, that might be part of the appeal. With more than 1,000 bird species, Uganda is a fantastic birding destination even non-birders will enjoy seeing specials like the prehistoric-looking Shoe bill.
Volcanoes National Park – Rwanda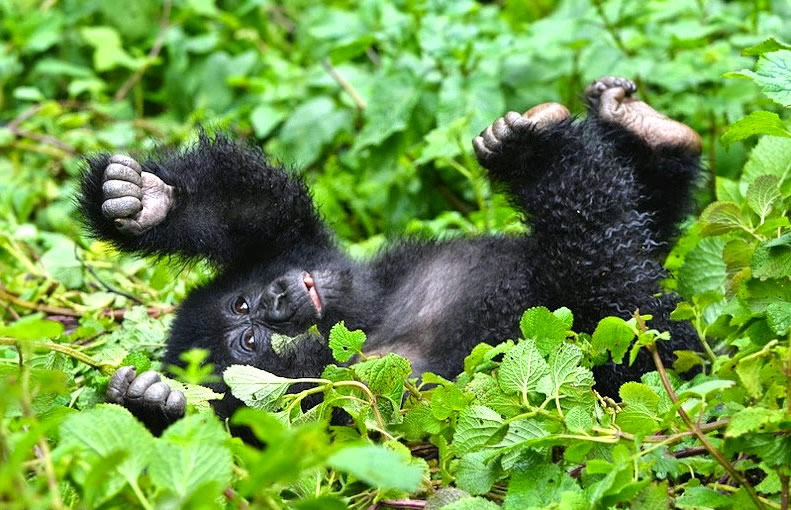 There is much more to the 'the country of a thousand hills' than initially meets the eye. Small, compact and easy to travel around, friendly Rwanda has well and truly consigned the tragic genocide of 1994 to history. The country has reconciled and rebounded spectacularly from this tragedy and today it is one of the friendliest, safest and most welcoming countries on the continent.
With its many families of habituated mountain gorillas, Volcanoes National Park in the northwest of the country is unquestionably the most famous and popular of Rwanda's protected areas. Sadly, most visitors to Rwanda simply come to spend time with its world-renowned mountain gorillas and then leave without sampling any of the country's other safari offerings. While gorilla trekking is definitely Rwanda's top safari attraction, Akagera and Nyungwe national parks are great additions to your Rwandan safari experience.
All three national parks are easily accessible by road, so a country-wide circuit through Rwanda's gently rolling hills can provide a fascinating and rewarding Rwandan safari experience. It could include Volcanoes National Park for gorillas, trekking and birding, primate-filled Nyungwe Forest for chimpanzees, waterfalls, bird watching and hiking and Akagera for a typically East African Big Five Savannah safari experience, along with some time on Lake Kivu for boating, kayaking and hiking and a couple of days to explore the capital city of Kigali with its sobering genocide museum.
With its stunning mountain scenery and surprisingly diverse wildlife resources, Rwanda offer far more than Africa's premier mountain gorilla safaris, and is absolutely worthy of further exploration.