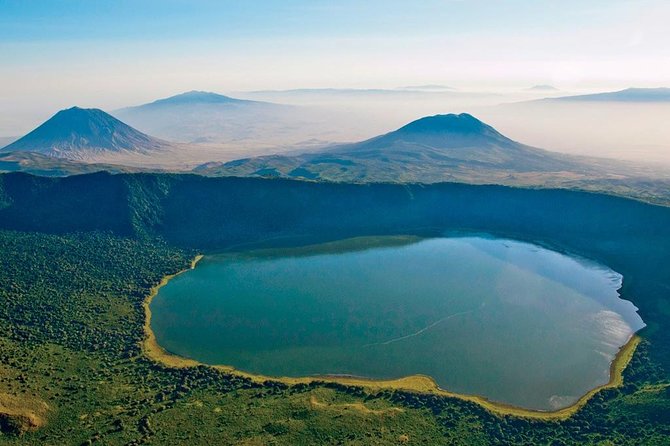 The Ngorongoro Conservation Area is a protected area and a World Heritage Site located 180 km (110 mi) west of Arusha in the Crater Highlands area of Tanzania. The area is named after Ngorongoro Crater, a large volcanic caldera within the area.
The conservation area is administered by the Ngorongoro Conservation Area Authority, an arm of the Tanzanian government, and its boundaries follow the boundary of the Ngorongoro Division of the Arusha Region.
The area's main volcanic formations, including Ngorongoro Crater and the volcanoes Olmoti and Empakaai, formed from 20 million to 02 million years ago. Empakaai Crater is noted for the deep soda lake that occupies nearly half of its caldera floor.
Ngorongoro Conservation Area is host to the largest ungulate herds in the world, including gnu (wildebeests), plains zebras, and Thomson's and Grant's gazelles. Predatory animals include lions, spotted hyenas, leopards, and cheetahs.
The endangered black rhinoceros and African hunting dog can also be found there. Notable among more than 400 species of birds in the area are flamingos, silvery-cheeked horn bills, superb starlings, and bronze and tacazze sun birds.
Ngorongoro is special because it's the world's largest fully intact caldera that hasn't yet turned into a lake. This single caldera contains 55 – 65 permanent lion residents on the crater floor, one of the highest densities of lion prides on Earth. Therefore, whoever going on Tanzania safari tours think about about the Ngorongoro before or after the Serengeti plains.
Seeing a black rhino for the first time kind of feels like you're traveling through Jurassic Park. With two large horns and a hooked upper lip, these creatures look as if they're from a different epoch.
Rhinos were brought to the brink of extinction but now their populations, due to conservation efforts, have bounced back to over 5,000 worldwide, 30 of which live in Ngorongoro Crater. This will be the best place to complete your Big 5 list, too!
The Great Wildebeest Migration (the largest migration of ungulates on the planet – source) passes right through the Ngorongoro Conservation Area, more specifically Lake Ndutu, from December to March. With over 02 million wildebeest, zebra, and gazelles, this monster migration is a sight to behold. Don't miss it.
Ngorongoro's lodges are some of our favorites. Imagine watching the sun set behind the caldera from the deck of your bush lodge! The conservation area has got a variety of safari lodges and camps and are all set with the eco mind concept to blend with nature.
Anytime is a great time to catch wildlife in the Ngorongoro Crater, but from May to October it's drier and grasses aren't as abundant, so wildlife tend to come closer together. The Ngorongoro safaris can be taken using the overland vehicles or by the air option using various domestic charters available in Tanzania.