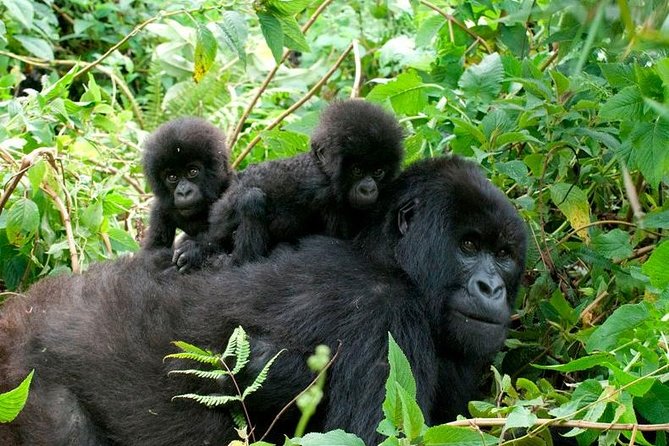 This Uganda gorilla tour is a suitable and price friendly gorilla safari that is designed to allow every traveler have a chance at spending time with the endangered mountain gorillas.
Tracking a family of mountain gorillas in the deep misty jungle of Uganda's Bwindi Impenetrable Forest is utterly magical; nothing can ever prepare you for such an experience. One hour with these gentle creatures, is all it takes to change your whole life's experience.
This trip starts and ends in Kigali. This budget safari includes accommodation, an expert guide, meals, transport as well as gorilla permits.
Depart from Kigali for your first day to Bwindi Impenetrable Forest National Park located in south western Uganda. Quite a minimum drive but worth it because you get to enjoy the countryside scenery, some of the most beautiful nature's images all the way.
En-route stopover at the Kabale town for lunch. After lunch, you will embark on your scenic drive to Bwindi Forest National Park for overnight stay at the booked accommodation.
On the next day, take an early morning breakfast and get ready to drive to the park headquarters for registration and joining others for a gorilla tracking briefing about the dos and the don'ts during your trek.
Once this is done, you will trek through thick creepers and undergrowth with your guides to find the gorillas, which can take you from half an hour to three quarters of the day.
The steep forested landscape is incredibly dense but crossed by numerous animal trails allowing access to tourists. On your trek, you are likely to spot other primates, birds and rare tree species. After finding the gorillas, you will be allowed to spend one hour with them before trekking back to the park headquarter.
This is indeed an extraordinary feeling being with these beautiful yet endangered creatures. You will be awarded a certificate for participating in gorilla tracking and thus contributing to the conservation of mountain gorillas.
On the Last day of the trip, enjoy the early morning breakfast and transfer back to Kigali for your booked flight. Still, you will enjoy the country side views of Uganda and Rwanda.