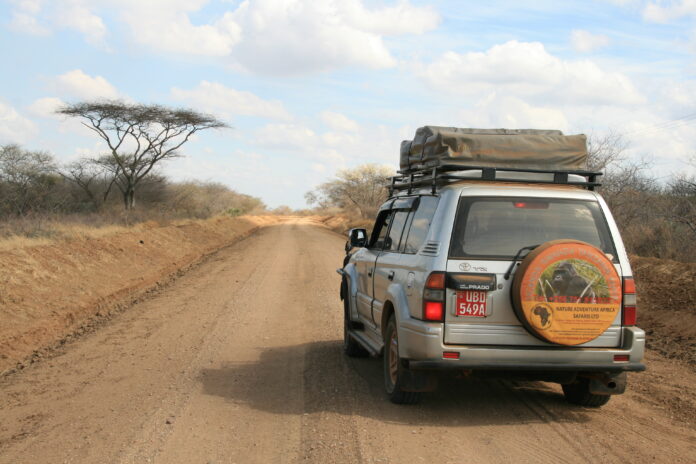 Here is a look at the 10 best African countries destinations from classic ionic East African countries such as Tanzania and Kenya to the up-and-coming countries like Uganda, Rwanda and Malawi.
Botswana
Botswana is a perfect country for self-drive safari destination and Zambia and Namibia are also ideal countries for you to start your own safari African adventure.  A self-drive 4×4 safaris is the only way to truly experience Africa by traveling through the beautiful wildlife reserves.
Botswana is a country coveted by wildlife enthusiasts the world over and is more than a one-stop destination. Getting the best of Botswana requires time, a 4×4, and knowing exactly where to go. This guide helps you to do that by providing an overview of the best routes, but more importantly, information on which stands to pick at the campsites, where to stop, what to look out for, and road conditions.
It's the kind of information you won't find in a regular guidebook. The vehicles come fully equipped including a table, chairs, fridge, fully stocked kitchen, and everything down to wine glasses, all to make your adventure as comfortable as possible. The quality roof-tent makes for safe sleeping outside possible and very enjoyable.
A self-drive safari through the varied landscapes, combined with an awe-inspiring display of wildlife, is an outstanding experience. From the unforgiving Kalahari Desert and the extensive Makagadikagdi salt pans to the river banks of Chobe National Park. Botswana is undoubtedly one of the best safari locations in the world.
Zambia
A self-drive trip through Zambia is the actual 4×4 overland adventure. And the best way to see all the highlights of this beautiful country. With its sometimes less easily accessible roads, Zambia is a country for the more experienced Africa travelers. Most travelers choose to visit Zambia between the beginning of April and the end of November. During the rainy season it's much more difficult to travel through Zambia. Even with a 4×4 many places cannot be reached.
Extensive savannas, large lakes and lots of wildlife: that's Zambia.  This country has a lot to offer. At the border with Zimbabwe, we find two places of interest that are worth visiting, namely the Victoria Falls and the Kariba reservoir. Further to the center of Zambia you will find the main game reserves North and South Luangwa National Park as well as Kafue National Park.
You will definitely find wildlife here. In the north of Zambia is the impressive Lake Tanganyika, the longest freshwater lake in the world. This lake is about 670 kilometers long and is located in four countries: Zambia, Tanzania, Burundi and Congo-Kinshasa. Anyone who likes water sports will certainly feel at home here.
Namibia
A Namibia self-drive safari tour gives you the opportunity to explore the country at your own pace. Namibia is superbly suited to the self-drive safari and is one of the best and safest destinations in Africa whether you're self-driving or not. It's a gorgeously country for combining wonderful wildlife viewing with spectacular landscapes and outstanding cultural encounters.
It also has one of the most professional safari industries, and the variety of places you can visit is simply remarkable. Getting around in your very own 4×4 vehicle adds a whole new dimension to your safari experience and is one of the best ways you can possibly imagine for getting to know Africa.
If you love dune-scapes and deserts, then Namibia is the place for you. The iconic views of Dune 45 and Deadvlei at Sossusvlei certainly live up to even the highest of expectations, particularly in the early morning light. Taking a helicopter flight or a hot-air balloon trip over the desert puts into perspective its sheer vastness, with nothing but a sea of sand as far as the eye can see.
There is life in the desert though the dunes themselves are slowly moving with the winds, and clever wildlife has adapted to survive the parched conditions. It's worth hiring a guide for a desert walk, to really understand the complexities of life and survival here.
But if wildlife is your passion, then head to Etosha, particularly in the dry season when all sizes of animals from antelope to elephant's head to the shimmering Etosha Pan followed closely by hungry predators at 5000 sq km it covers almost a quarter of the entire National Park. For a different perspective to Namibia's wildlife, head to the Zambezi Region (formerly Caprivi Strip), that odd streak of land jutting out into Zambia, Angola and Botswana, which is dominated by huge rivers and lush floodplains. The wildlife isn't as prolific as in Etosha but there are far fewer tourists and the change of scenery into a watery wonderland is stunning.
South Africa
South Africa is a beautiful destination no matter how you organize your safari. But to go on a self-drive safari here can take things to a whole new level. The country has an excellent and well-maintained road network, and a self-drive safari or tour will give you so much freedom to enjoy what you're seeing.
While your safari operator will organize the vehicle and give you an itinerary, you'll still have lots of opportunities to take control of your experience without having to take anyone else into consideration which you would on most other kinds of safari. Above all, you will be exploring a country of exceptional natural beauty and variety, not to mention some amazing national parks filled with wildlife.
That's how the Rainbow Nation likes to sell itself, and it's true. From the Kruger to the Kalahari this spectacular country offers a world of different habitats to explore. First and foremost is the lowveld country of the far northeast. This is where the Kruger, South Africa's biggest national park stretches away towards Mozambique.
Think of a wilderness the size of Israel and you'll understand why it is home to more species than any other park in Africa. Among them are lions, wild dogs, sable antelopes and the legendary Kruger elephant bulls with tusks that almost touch the ground.
For a more exclusive lowveld experience you should choose one of the private big five wildlife reserves that lie up against the Kruger's western boundary. Among the best known are Londolozi, MalaMala, Singita and Ulusaba. Cheap they are not, but each one comes with top-of-the-range guiding and some of the most luxurious lodges on the planet.
Unique to South Africa are malaria-free game parks such as Madikwe, and the Addo Elephant Park; and if you are thinking about a beach-and-bush safari you could combine the Hluhluwe-iMfolozi and Phinda game reserves of KwaZulu Natal with a relaxing stay beside the Indian Ocean. Or, better still, combine a safari in the Kruger or the Sabi Sands with a short flight across the Mozambique border and a barefoot beach lodge in the Benguerra archipelago.
Zimbabwe
Zimbabwe is a country of great variety, with lots of highlights packed in a relatively small area. This makes it equally suitable for a guided tour as a self-drive adventure. The biggest draw is Victoria Falls, one of the Seven Wonders of the World.
The country is home to iconic wildlife destinations, as well as several low-key wilderness destinations where you might spend days without seeing another tourist. If this is your first trip and you want to 'tick off' all the major animals on your checklist, be sure to start with Hwange National Park which has huge concentrations of game in the dry season.
I love Hwange in the dry season for its big concentration of elephants. Matobo National Park is known for its rugged landscapes. The granite domes and balancing rocks give shelter to numerous rock-art sites. Wildlife is thin on the ground here, but the guided rhino tracking activity is a winner. Walking safaris are recommended in all the parks but especially so in Mana Pools. Getting up close to a big tusker on foot is an experience I'll never forget. One of Zimbabwe's most underrated destinations is Gonarezhou National Park, a raw wilderness perhaps most appealing to repeat visitors looking for some off-the-beaten-track exploration.
Zimbabwe is also known for its historical sites. Most notably the Great Zimbabwe Ruins, a medieval city built entirely without mortar (dry stone). Less well known, but equally worth a visit are the Khame Ruins outside the bustling city of Bulawayo. Most of Zimbabwe's highlights are situated in the Zambezi Valley.
For a total change of scene and to get a break from the valley's heat and humidity, I love to get out to the Eastern Highlands. Here you can enjoy long forest hikes, trout fishing and horse riding. And the area is a birding hot spot as well.
Kenya
Kenya is considered safe for self-drive safaris. Road tripping at your pace is the best way to explore Kenya. Hire a 4×4 Car Hire with rooftop tent and drive your own adventure. Self-driving safari gives you the opportunity to mix and match some of the country's spread-out attractions in a limited amount of time.
Kenya is one of Africa's top safari destinations. To go on a 7-day Kenya safari, you'll have to make some choices. The good news is, wherever you end up going, you're bound to see lots of animals in a magnificent setting. The open Savannah of the Masai Mara National Reserve is particularly rewarding for close-up sightings of most sought-after animals.
Elephant lovers should go to Amboseli National Park where you can see these tusked giants walking in front of Mt Kilimanjaro. Parks and natural attractions in the Rift Valley, such as Lake Nakuru National Park and Lake Baringo, are scenic and great for birding too. Or you could head up north to Samburu Game Reserve and, perhaps, Meru National Park for a more off-the-beaten-track experience.
Tanzania

Self-driving in Tanzania gives you an opportunity to explore its national parks and game reserves at your own pace. First among equals is the Serengeti, probably the most famous wildlife refuge on the planet, a wilderness the size of Holland renowned for its lions and great migration of wildebeest and zebras that spend every year chasing the rains across its endless Savannah.
It fits perfectly into the northern safari circuit along with three other fabulous big game sanctuaries: Lake Manyara, Ngorongoro Crater and the hugely underrated Tarangire National Park.
Wilder still are the great animal strongholds of Tanzania's southern circuit. Nyerere is Tanzania's biggest national park and the best place to go for the thrill of seeing wild dogs, while the Ruaha is even bigger than the Serengeti and a huge favourite with lion junkies like me.
Wildest of all is Katavi, well worth going the extra mile to see, as are the chimps of Gombe Stream on the idyllic shores of Lake Tanganyika where Jane Goodall carried out her ground breaking research into the behavior of these, our closest wild cousins.
And after a week or two of life in the bush, where better to wash off the dust than on the coral sands of Zanzibar or the un-spoilt islands of the Mafia archipelago.
Malawi
Split by the Great Rift Valley and enormous Lake Malawi, and bordered by Zambia, Tanzania and Mozambique, Malawi has a lot going for it thanks to the legendary friendliness of the people and a distinctly chilled vibe. Malawi's main tourist attraction is enormous Lake Malawi, with its beaches and water-based activities. The country also offers a range of safari options. Lovely Liwonde National Park has a winding river ideal for boat trips and seeing lots of elephants. Majete Wildlife Reserve is Malawi's top Big Five destination. The rolling green hills of Nyika National Park are ideal for walking
It's hard to know where to start listing the highlights but the lake itself is the draw card for all visitors. As it covers almost 30% of the country, there are numerous choices from budget thatched resorts to more upmarket beach hotels, but at all, feet-in-the-sand with a cold Malawian beer is the norm. The lake shore towns and villages are relaxed and offer rustic cafés, vibrant markets and unpressured souvenir shopping but my favorites are Nkhata Bay and Cape Maclear and inland, towns like Salima and Mzuzu, and even the capital Lilongwe, have unhurried laidback atmospheres.
Malawi is home to nine national parks and wildlife reserves. Lake Malawi National Park at Cape Maclear covers part of the shoreline, numerous rocky islands and the lake itself. Wildlife present includes baboons, small antelope and rock hyrax, while fish eagles, cormorants and hamerkops soar overhead. But to see the main attraction of Lake Malawi National Park you must get wet, and with a mask and snorkel you can observe glittering shoals of endemic and beautifully multi-colored cichlids.
Uganda
A Ugandan self-drive safari might be right up your sleeve if you're a bit of an adventurer. With our 4×4 Rooftop Tent Car in Uganda there's nothing quite like exploring Uganda at your own pace and in your own time. While most safari packages visiting Murchison Falls, Queen Elizabeth, Kidepo Valley, Lake Mburo, Bwindi Impenetrable and Kibale Forest National Parks adhere to a pre – determined itinerary, a self-drive safari is where you get to take control.
Yes, you'll need to have your campsites and other accommodation booked well in advance, putting some limits on your freedom. But it will be up to you which route you take, how long you stay to watch those lions on a kill, and how long you stop for lunch. That freedom comes with a sense of responsibility if something happens, you're the one who'll need to deal with it. But help is never more than a satellite phone call away and it's a small price to pay for the sort of safari holiday that you'll never forget.
Many tourists come over to Uganda for a quick gorilla visit after their Kenya or Tanzania safari, but Uganda is a worth the effort savanna safari destination in its own right. Lake Mburo, Queen Elizabeth and Murchison Falls National Parks offer good sightings of lions, elephants, buffalo and other Savannah wildlife. The quite recently established Ziwa Rhino Sanctuary is a great place to see white rhino on foot. The game viewing might not quite be on a park with Kenya and Tanzania, but the stunning scenery makes up for that.
One of the highlights is the boat trip on the Nile to the base of Murchison Falls, where the water forces its way through the narrow gap in the Rift Valley escarpment. Tourist numbers are much lower and the industry doesn't seem as mature as in its neighboring countries, but if you can handle a few hiccups, that might be part of the appeal. With more than 1,000 bird species, Uganda is a fantastic birding destination even non-birders will enjoy seeing specials like the prehistoric-looking Shoe bill.
Rwanda
Of all Africa's great safari destinations, none is so geared toward self-drivers as Rwanda's Volcanoes National Park, Akagera National Park, and Nyungwe Forest National Park. Volcanoes National Park is easy to get around in a rented or private vehicle from self-drive Kigali and it is just 2 hours' drive from Kigali City, thanks to a well-maintained road system and ready availability of map books, field guides and other interpretive material.
A great network of affordable and comfortable rest camps offers self-catering accommodation, camping, filling stations, supermarkets and restaurants. The Rwanda safari highlight in Rwanda is Volcanoes National Park, generally regarded to be the easiest place to track mountain gorillas and a good choice for anyone who is unsure about their fitness.
This is because the park's habituated gorilla groups are predictably territorial and can usually be found quite close to the forest edge, which is reached along any of several relatively flat footpaths. Trekking conditions at Volcanoes National Park's main competitor, Uganda's Bwindi Impenetrable National Park, are less inherently predictable and often involve long walks through steep and densely forested slopes.
The main challenge of Volcanoes National Park is that the gorilla trekking permit costs US$1,500 per person as compared to US$700 to its neighboring country in Uganda.