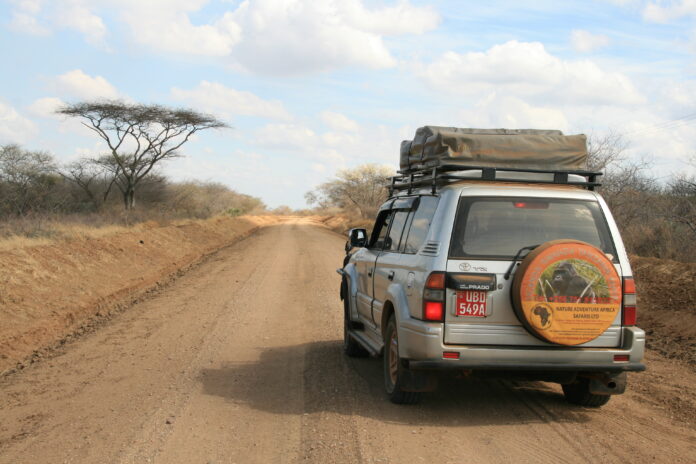 Uganda is the perfect self-drive destination and one of the best ways to explore the country's many beautiful sights is by doing a road trip. Doing a self-drive Uganda with rooftop tent is perfect for those of you who want to enjoy the drive themselves, want privacy, lots of flexibility and are looking to travel around Uganda on a budget.
You will be able to pull over anywhere, change plans as you see fit and have full control over your itinerary! With great flexibility also comes great responsibility though, so you will be the one responsible for whatever happens on the road.
Rent a four-wheel drive
Uganda might have great asphalted main roads, but the real adventure starts when you take a turn towards the smaller roads and safaris. So, if you plan on having the same vehicle for your entire self-drive Uganda experience, you must rent a 4×4.
The roads can get extremely bumpy in Uganda and you don't want to waste time being stuck in a ditch in the middle of a national park. It will not only cost you a lot of money (they charge a hefty fee to get someone to pull you out in a national park), you'll also be wasting a lot of time since they might need some time to get to you.
Opt for a 4×4 car with rooftop tent
The best way to travel to Uganda on a budget is by renting a car with a rooftop tent. The tent on the car is very comfy and there are numerous campgrounds all over the country ranging from basic bush campsites inside the parks to private campgrounds operated by lodge owners, enabling you to stay at a secured site with good amenities whilst sleeping for a dime.
If you decide to camp in a national park, there will be park staff setting up a campfire for you to prevent animals from approaching the tent or vehicle
Pack snacks and water
Once you stray off the main roads and into the parks, you won't find a single shop that sells water or food. Many hours can pass in between meals if you don't plan accordingly, so make sure you plan hearty snacks! You can take cereal bars with you and buy at least 3L of water in the mornings to have throughout the day. Restaurants are very hard to come by and the one place you may come across is where you get a 'Rolex' from. So, while you definitely could be experimental with food, just be careful for upsets.
Bring good camera equipment
One of the best things about doing a self-drive Uganda is the opportunity to blend in, and not be part of a bigger group of tourists, both in the cities as well as safaris. Your trip to Uganda will definitely benefit from a good zoom lens. Do not be reluctant to buy a new lens just for the sake of one trip, but even a second hand 70 -300mm lens can do the job just fine. If you are traveling to Uganda to take amazing photos of animals, then you need something up to 600mm as your best bet though they tend to cost a pretty penny.
Know the road rules
Besides the information, the company you rent a car from will provide you with the road rules; make sure you read up on road rules before you sit in the car! The driving speed limit on the Ugandan motorways is 100 km/hour, non-urban roads 80 km/hour and on urban roads, you'll have to maintain a speed of 50 km/hour.
Although Uganda's roads are in good condition, you generally don't reach more than 60km/hour, due to speed bumps. The scenery from the motorway is stunning as well, so take that into account and be ready to make a few stops along the drive.
On gravel roads, you will be driving at an average of 30km/hour. If you are trying to estimate your travel itinerary with Google Maps, increase the suggested travel time by 30%. Don't map out your entire day route, because Google Maps will look for the shortest route and those are likely to be in a very bad state.
The road trip in Uganda with 4×4 rooftop tent is safe since most Ugandans speak good English, they will also go out of their way to try and help you in case of an accident. Main roads outside Kampala are wide, asphalted and safe and we didn't experience any excessive speeding or crazy behaviour.
In case you go away from the car, keep your belongings safe and covered in and not visible on the seats, especially when it comes to camera bags, wallets and phones.
And while main motorways are safe and comfortable to drive on, you will definitely experience something totally different once you drive off of them. Get ready to experience the 'African 'massage' the moment you get off that asphalt!
Roads in most national parks are as bumpy as the one going through Queen Elizabeth National Park. But the experience is so much fun – you see hippos, elephants, baboons and so many more animals by this road! This is what makes a drive through the non-asphalted roads so much better – the animals are not scared to approach them because you can't drive fast there.
And the roads and landscapes in Uganda are varied – from rain forest, mountains, lakes, Savannah landscapes to cities and towns packed with motorcycles and van taxis, so you will definitely not get bored!
Compared to its neighbours, Kenya and Tanzania, Uganda is not that big. Meaning you can easily manage to drive from one highlight to another in the one-month time or shorter like 03 weeks. Because you spend most of the time in the car, you won't even feel exhausted.
The time in the car is actually 70% of the fun and you will love road tripping Uganda and seeing how locals live as you pass by the small villages and towns and Rwanda is the nearby country to go self-drive in Kigali – Rwanda and visiting most of the parks, reserves and the beautiful cities.
The flat tire is part of the experience. Usually, the last stretch of your daily trip requires some driving on gravel roads to get to your lodge or park entrance gate. Inside the parks, it's off-road driving on dirt roads. The conditions of these gravel and dirt roads tend to be variable from one season to the next.
With that said, be prepared to get stuck in the mud at a certain point during your road trip after heavy rains, or even get a flat tire after driving over one too many potholes. The most difficult areas to drive are Kidepo and Bwindi. As for driving in Kampala city, the traffic jams can be absolutely horrendous.