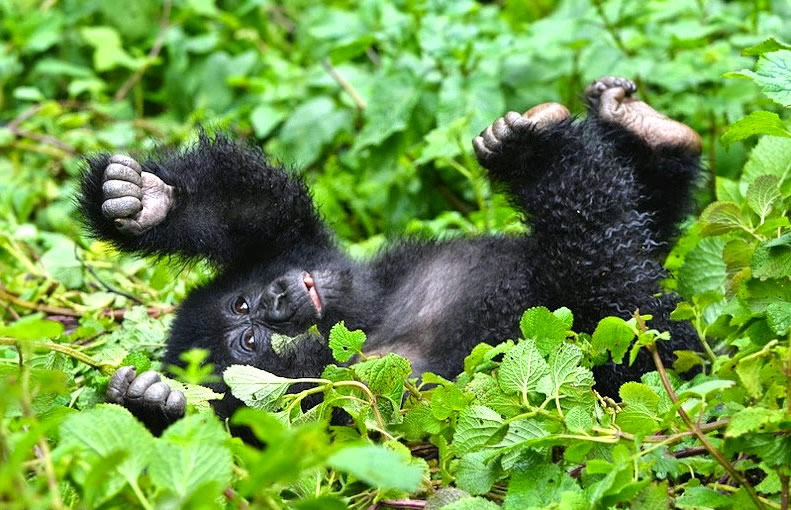 I and my family we have just returned from safari in Rwanda and Uganda exploring all the 3 Rwanda parks and Uganda gorilla parks. It is astonishing how this country has reinvented itself and turned itself around after previous atrocities. Rwanda is now one of the most exciting and vibrant African countries.
Rwanda is remarkably clean and safe, with smooth tar roads, good communications and everything works. Although the distances look small on a map, the roads are very twisty, with strict speed limits thankfully, so it still takes a surprisingly long time to get between destinations. Try and build in an extra rest day or two and don't be tempted to dash around.
Rwanda is very densely populated, and there are people everywhere, so visiting here is not a wilderness experience. However, the landscapes are beautiful and the national parks, although small compared to elsewhere in Africa, are impressive. The government is seriously investing in conservation and national park infrastructure as tourist dollars are such an important source of revenue.
Of course, most tourists come to see mountain gorillas. Rwanda's gorilla tourism is very well organized and certainly delivers that magical bucket list experience. However, there is far more to Rwanda than just gorillas. This country's other natural treasures include chimpanzees, a multitude of monkey species, endemic forest birds, volcanoes, lakes and, amazingly, the recently reintroduced Big Five at Akagera National Park.
For a few days, I took a tour to beautiful Bwindi National Park in Uganda from Kigali. My tour guide, Emma, was kind and reliable. The encounter with the gorilla family in the park was just one of the most amazing things I have ever done in my whole life. I recommend doing this kind of trip 100 % with these guys. Thank you, Jackie, and thank you gorilla safaris tours for making this trip just unforgettable for me and my family.
Emma picked us up in Kigali and took us to the very moving Genocide Memorial Museum before driving us to Bwindi in Uganda ready for our amazing gorilla trek the next day. The Rwandan experience had priced us out of their market, Jackie provided an alternative that is Uganda!
She was a really informative and gave us supportive guide, making sure that we got across the borders and onto our treks with minimal fuss. The accommodation which was arranged through his business partner Moses was totally delightful and Emma made sure we were well looked after and negotiated an extended checkout on the last day for us to freshen up after our trek.
Emma was keen to get us across the border, as it seems that sometimes the internet can be a little unreliable at the border control and you could wait for ages to be processed. Couldn't quite believe the beautiful countryside and a stop in at Lake Bunyonyi which was absolutely beautiful. Unfortunately, our canoe ride was cut short by the rain. It was a long haul, due to rain, to Ichumba Gorilla Lodge arriving late in the evening but to a very warm welcome and a huge wonderful meal. Wow our room was fantastic and the staff amazing.
The gorilla trek was without doubt one of the most awe-inspiring experiences of our life, trekking for hours through the rain forest before coming face to face with a huge silver back and his juvenile family. It was such a thrill.
Up bright and early with our lunch packs to meet at the entrance to Bwindi. Once into our trekking groups and briefing completed, off we went on our amazing adventure, each with our own porter. Funnily enough we were grouped with 6 other Australians from Melbourne – 3 sisters and their husbands.
We didn't have to trek too long and after a short wait for notification from the trekkers where the gorilla family were, we could see in the distance some darkness. Descending down a track and there they were! My God we are finally here and experiencing the wonderment of the mountain gorillas. Something we will never ever forget. To be so close to these incredible animals, free, content and accepting of us visitors. Totally awesome. A mother and baby brushing right by us to get to the trees in the background, as we sat and watched.
We learnt so much about Rwanda and Uganda on this trip due to the knowledge and efforts of Emma. In addition to our treks, he took us on a wonderful scenic tour through Uganda and Rwanda so we could experience the stunning scenery and see how the local people really live.
From Jackie's excellent customer service and advice during the booking process through to Emma's attentive and informative service as our guide, I couldn't fault gorilla safaris tours. I highly recommend them for trekking in Uganda and Rwanda.
We spent the afternoon on our balcony at the lodge, just reminiscing about our wonderful morning of time spent within such close proximity to these glorious creatures and couldn't quite believe that we had 'done it'. We still cannot believe it.
The next day we headed off early to the Batwa Trail where we were welcomed by a Batwa family that had been transitioned into the countryside out of the forest where they have lived for generations. They danced and talked and then we headed into the forest so that they could share their past way of life.
Several hours later after climbing high around the hillside and experiencing all their lifestyle from the past, we were back on the road again but a different highway back into Rwanda. Emma was keen to get across the border again before stopping for lunch but firstly visiting the Jane Goodall Centre.
The golden monkey trek in Rwanda on the following day was brilliant too. The trek was much easier and quicker than the gorilla trek but totally exceeded our expectations. The golden monkeys were so much fun as dozens of them played around our feet.
Back in Kigali after traversing some amazing countryside Emma dropped us at the airport for our flight to Victoria Falls. Onward to the next adventure, but will there be anything like what we have just experienced? We are about to find out. Can't recommend Emma and gorilla safaris tours highly enough – the best thing we have done in our travel experiences ever! Way to go Moses, Jackie and Emma. Thank you.